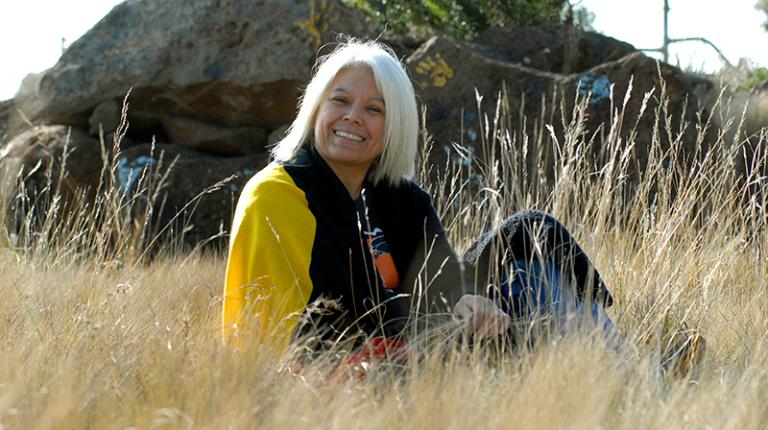 Karen Jackson Associate Provost, Indigenous has been singled out for recognition by two peak bodies: Engagement Australia and the Association for Tertiary Education Management (ATEM).
A Yorta Yorta woman, and Director of Moondani Balluk Indigenous Academic Unit, Jackson has been awarded the ATEM Best Practice Awards Award for Excellence in Community Engagement for her work with the Wunggurrwil Dhurrung Centre in Closing the Gap for Aboriginal community in Wyndham and the West of Melbourne.
Over many years, Moondani Balluk and the Wyndham City Council worked with the Wyndham Aboriginal Community Centre Committee (now named Koling wada-ngal – Walk together) to plan this purpose built centre and create a purpose built, culturally safe gathering space for the Aboriginal community.
As Associate Provost, Indigenous of Moondani Balluk, Jackson, or KJ as she is known to many, leads a team of Aboriginal staff to help VU increase access, participation, success and retention rates for Aboriginal and Torres Strait Islander students. Her work includes co-developing and delivering relevant education and community-based programs by Aboriginal people for Aboriginal people, undertaking community-led research and engaging with community and service providers.
Jackson was instrumental in designing VU's Bathelmun Yalingwa ('Shine Bright') Strategy and co-developed the Vice-Chancellor's Indigenous Leadership Committee to increase the numbers of Aboriginal and Torres Strait Islander peoples engaging with the University. The strategy also provides potentially transformative, culturally relevant programs for students, across a number of VU campuses.
Jackson is also a finalist for two Engagement Australia Awards (winners to be announced 30 Nov) for Outstanding Leadership in Engagement and Excellence in Community Engagement: Closing the Gap. Only a small group of Australia's and New Zealand's "most exceptional university-building and economic-advancement initiatives have been shortlisted" for the awards, which celebrate "far-reaching impact and innovation". The winning nominations are set to be announced 30 November.
Described as a warm and generous leader, Jackson has personally mentored a number of staff and students and subsequently employed several Aboriginal graduates within Moondani Balluk.
"I've had the privilege of working with KJ for 10 years during my time as Vice-Chancellor. During this time I've witnessed her continued passion and dedication, and the extraordinary impact she has had on our students and staff, and in shaping our identity as a University.
Along with an experienced team, KJ has built and led the Moondani Balluk Academic Unit, established a number of programs to support staff and students and worked to create impactful partnerships with Aboriginal and Torres Strait Islander communities. She was instrumental in designing VU's Bathelmun Yalingwa ('Shine Bright') Strategy and is a leader in my Vice-Chancellor's Indigenous Leadership Committee.
Her work has involved co-developing key policy initiatives and involvement with significant projects, including winning an Australian Research Council grant which created an opportunity to digitise the Aboriginal History Archive – an archive built around the Foley Collection, which includes almost 500,000 items collected by Aboriginal activist Professor Gary Foley," said Professor Peter Dawkins.
"Aboriginal community and my connection to the west of Melbourne stems from my deep spiritual and physical connection to Yorta Yorta Woka and people. Knowing, being and understanding who I am in the world enables me to be who I am within VU, within the structures of colonialism. In this space of being, I feel blessed by Bunjil the creation spirit of Kulin and I engage in community so that I may share my knowledge and experiences with them. In this way we all grow together to create new connections, new spaces and places, and ways to learn, grow and connect with each other, "said Jackson.
Watch a special 'Congratulations' video for Karen Jackson Associate Provost, Indigenous.