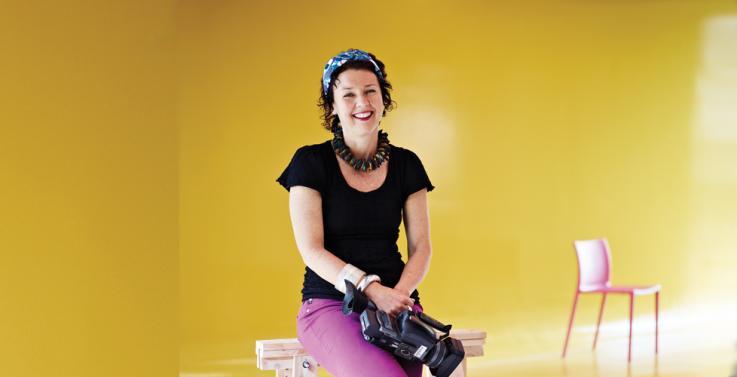 Dr Ceridwen Spark has travelled high and low across Papua New Guinea (PNG) collecting stories of women with the power to inspire change.
In PNG for four months on an Endeavour Research Fellowship, Dr Spark researched the lives of female leaders at a time of great social change in their communities.
The biographies of these women inform six short documentary films, which challenge the idea women have little to contribute in their male-dominated society.
One subject is a nun who was instrumental as a peace-builder in Bougainville. Another is the country's first female village magistrate, making the elderly lady one of the top authorities for administering traditional justice on Manus Island.
"There are all these terrific women in Papua New Guinea doing these inspiring things so I sought to document them and make their stories accessible to a wide audience," Dr Spark said.
But the Pawa Meri or 'Power Women' project is about more than celebrating women's stories: it's also about training local women as directors and filmmakers, and educating school children across the country about the roles women play as leaders.
"I didn't want my research to simply gather dust on a bookshelf," Dr Spark said. "From the very beginning the films have been about opening up discussion with people across Papua New Guinea – especially the younger generations – about gender and leadership."
The project recently featured on ABC Radio Australia.
On completion, the films will go to secondary school teachers around PNG, along with discussion guides on the gender issues raised. International or film festival audiences are secondary as the focus remains capacity-building, she said.
The documentary films are being made by local PNG women, who receive training in everything from interview techniques to camera angles, sound recording and studio editing. In a country where access to media training is so limited, this is significant.
With 2012 elections resulting in three women elected to PNG's parliament Dr Spark, who was born and raised there, says times are clearly changing.
"This project is contributing to that sense of change and momentum by featuring strong women in the public domain where they've traditionally not been well represented. The project is providing opportunities for up-and-coming women filmmakers with the skills to tell these and ultimately other stories."