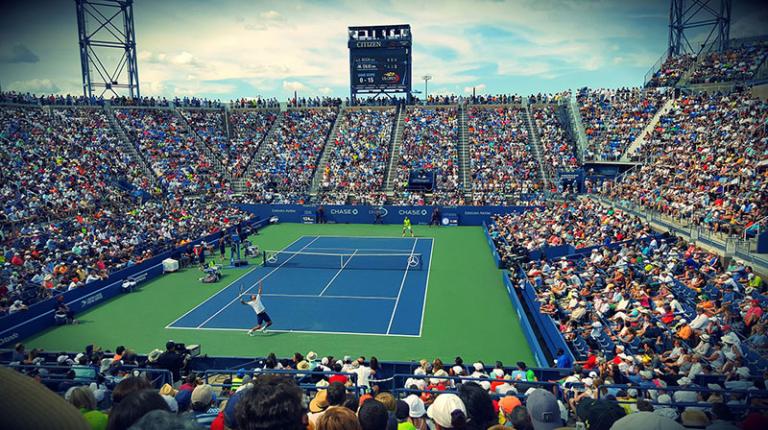 It sounds like a dream job – working at one of the world's most exciting sporting events, the 2019 Australian Open.
For the team who make up the Game Insight Group or GIG (a Tennis Australia/Victoria University initiative), this was a remarkable opportunity to put into play a project that had been a year in the making, applying data analysis and research to provide win predictions, player performance data, and much more.
GIG member and Institute for Health and Sport skill-acquisition specialist Professor Damian Farrow said: "GIG found that using the correct racquet can improve performance by up to 10%, yet 80% of the tennis-playing population use racquets not suited to them. During the Australian Open we launched Tennis Lab, which is the world's first instrumented tennis court designed for the purpose of racquet customisation."
Tennis Lab attracts world champions
At the Tennis Lab, based in the National Tennis Centre at Melbourne Park, some of the world's best players stopped by, including Australian Open 2019 Women's Doubles champion Sam Stosur and Quad Wheelchair Singles champion Dylan Alcott.
There was also an online space where players at all levels could access advice, including Racquet Recommender. "All you need to do is enter some basic data to receive an objective recommendation regarding the best racquet for you. The program, designed by GIG data scientists, is based on an algorithm developed using data collected from testing hundreds of players and 80% of the racquets on the market," said Professor Farrow.
Game insights target global audience
With access to all areas, GIG staff had a rare opportunity to see the inner workings of one of the biggest sporting events in the world. One first-hand insight of particular relevance was how Tennis Australia's host broadcast is fed out to international networks. This experience reinforced the importance of research translation. The global audience interested in tennis is immense, but the nature of broadcast in all its forms is founded on simplicity. Professor Farrow says that, as a consequence:
"It became very clear that for our new game insights to have any cut-through we must be accurate, timely and deceptively simple in our communication."
The GIG's real-time analytics made stats available for broadcast that included in-match win predictions for all men's and women's singles and doubles, as well as a whole new slate of cutting-edge physical stats, like high-intensity changes.
GIG was able to provide an unprecedented level of detail to broadcasters (Channel Nine, ESPN, Amazon, Prime, Skysports) and fans about the physical demands at the highest level of the sport; greater than has ever before been delivered to fans.
'Player DNA' statistics help commentators analyse the field
GIG also helped Australian Open media and commentators analyse the field with its Player DNA, which provided rich statistical ratings on the technical, tactical, physical and mental performance of top players. Over the tournament's two weeks, GIG produced over 150 gigabytes of content for print and social media, giving a stream of statistical storytelling throughout the event.
Data analyst Dr Stephanie Kovalchik said GIG's output was a game changer, on many levels.
"When Novak Djokovic won his seventh title at the Australian Open, he thanked the people for making the tournament better and better each year. One of the major reasons why the Australian Open looked new and improved to players and fans is the data analytics of the Game Insight Group, which are transforming tennis through data science."