Funding boost to prevent falls with AI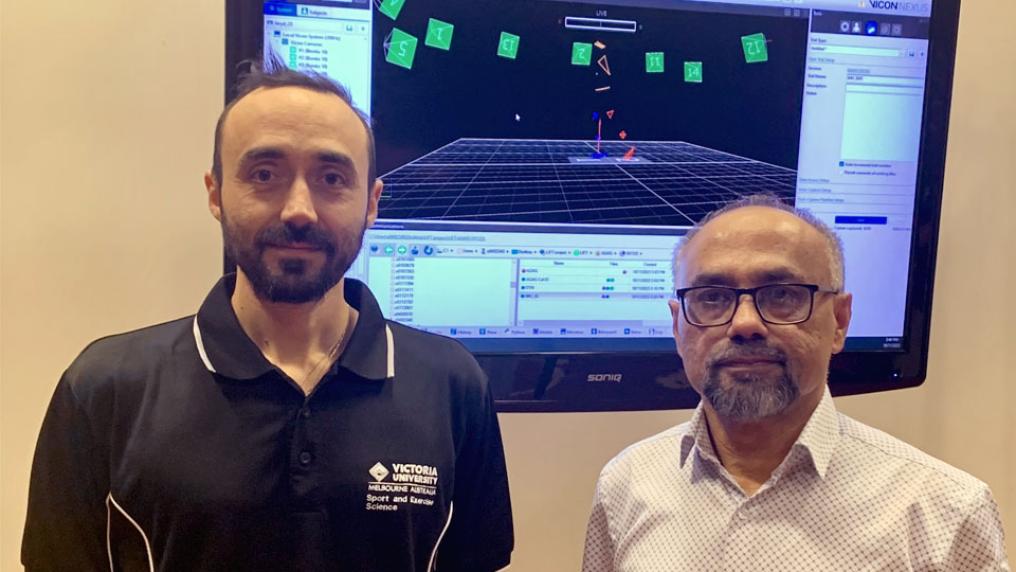 VU researchers Prof. Rezaul Begg and Dr Alessandro Garofolini are set to radically change falls prevention using AI-controlled wearable assistive devices.
Tuesday 14 November 2023
An Australian Research Council (ARC) Discovery Project grant has been awarded to Victoria University (VU) researchers, which will play an important role in falls prevention for older people and others with restricted mobility.
Sensors to alert wearers of impending balance loss
Neuromuscular disorders resulting from trauma, ageing and musculoskeletal impairments increase the risk of balance loss and falling. And the individual health consequences can be catastrophic: representing 43 per cent of injury hospitalisations and 42 per cent of injury deaths in Australia.
Traditionally, gait research has been laboratory-based and retrospective, with limited capability to intervene in real time to prevent balance loss in the everyday environment.
VU researchers Professor Rezaul Begg and Dr Alessandro Garofolini are set to radically change falls prevention using AI-controlled wearable assistive devices. Their project, 'Predictive Biomechanics for Modelling Gait Stability and Falls Prediction' received $662,000 from the ARC in the latest round of Discovery Project grants.
The project will see biometric monitoring move beyond the laboratory into everyday locomotion, with a wearable digital intervention to predict and prevent falls before stability is lost.
Research participants will wear sensors while they engage in their usual daily activities, and their gait will be monitored remotely using predictive biomechanics.
The research team will employ an artificial intelligence model in the design of the wearable sensor system, which will analyse motion-sensing data in real-time, predicting impending balance loss and alerting the user to take avoiding action.
The project brings together expertise in artificial intelligence, wearable sensors and gait biomechanics, extending VU's research in everyday locomotion monitoring and evaluation of tripping, slipping and balance loss.
"The project will undertake the fundamental research work to reveal in real-time the structure and function of step-to-step balance control to deliver a 'fail-safe' gait assisting technology to prevent falls," Professor Begg said.
The research will be made publicly available, with potential benefits in improving quality of life for people with restricted mobility.
Professor Begg and Dr Garofolini will work closely with specialist researchers at the University of Melbourne (Professor Peter Lee) and Deakin University (Dr Chandan Karmakar), combining their expertise in a highly focused AI-driven public health initiative.