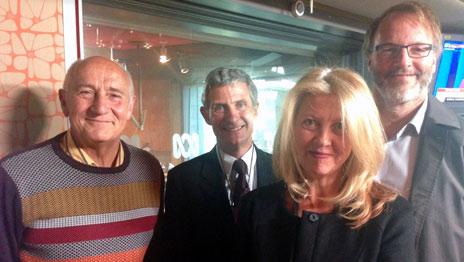 Footscray University Town was featured on ABC Radio's The Conversation Hour on Monday 10 November.
Presenter Jon Faine and co-host Corrie Perkin spoke to VU's Dr Rob Brown; MGS Architects director Rob McGauran, who has visited dozens of university towns around the world; and owner of Davis' Music Centre in the heart of Footscray, Lucio Ughetti.
Dr Brown said a major challenge was to change the perception of the area, with the Maribyrnong City Council and VU working together.
"From the perspective of the Council trying to encourage development and growth, and from the perspective of VU wanting to attract students more easily, the process of working together seemed a very natural thing to do."
Rob McGauran said it was important to identify what made places "stickier" – with people wanting to stay in them longer.
"We know the best learning and research outcomes for universities come when students and staff are on the campuses longer. Footscray has the right feel; its diversity fosters small businesses and allows the accidental to happen," McGauran said.
Lucio said there was growing promise for music in the area, with clubs, bars and pubs popping up more quickly than ever before.
"We're the oldest music store in Australia. We used to be in the city and then moved to Footscray purely for the fact that I felt Footscray had great potential," he said.
"In the last few years I've found a lot of interesting young people wanting music, and it's been very positive in our industry. To have someone prepared to put some effort into Footscray means the future is there rather than not," Lucio said.
Listen to the full interview on the ABC website (starts at 27.00)