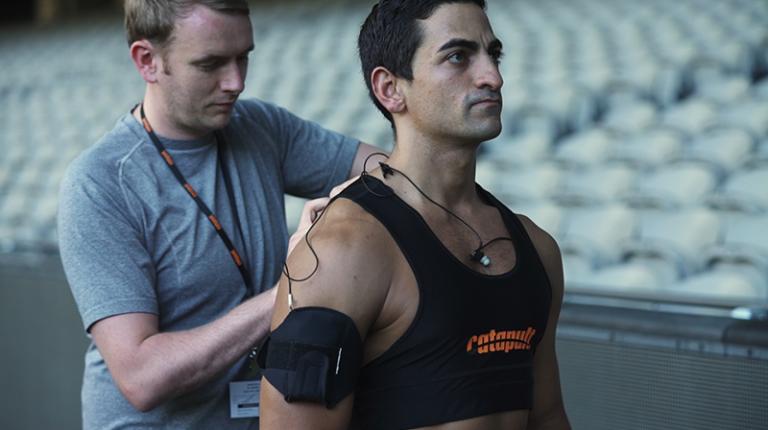 International football governing body FIFA has selected Victoria University to establish a world-first international standard for tracking devices used by many football clubs.
The electronic devices track player movement and performance. Lead Researcher Professor Rob Aughey of VU's Institute for Health and Sport said the researchers are comparing their quality, reliability, and reproducibility. Comparisons are made against VICON, a widely recognised independent 'gold standard' motion-capture system that can provide precise, three-dimensional measurements of objects or people.
Tracking systems a billion-dollar business
Satellite-based global positioning, or camera-based optical and local electronic tracking systems, are a multi-billion-dollar business. They can measure how fast or far players are moving, or track interactions between players in training and competition. These measurements can result in incremental improvements in player or team performance, and make the difference between winning or losing a match.
They can also be used to modify training and recovery to protect players and reduce injury risk, or as part of real-time broadcasting to provide player statistics and promote fan engagement.
The devices can even potentially be used to prevent or prosecute match-fixing by detecting when players are moving differently than normal.
VU to help set professional standards
There are about 30 different manufacturers around the world with electronic performance tracking systems, but no professional standards exist for the accuracy of these systems, Professor Aughey said.
FIFA Research Manager Johsan Billingham said FIFA chose to work with Victoria University on a first-of-its-kind Electronic Performance Tracking Systems Validation Study because of VU's broad set of interdisciplinary skills. He says of the choice:
"Victoria University is one of the few universities in the world capable of conducting an international validation research project of this scale."
The first part of the project, conducted in 2017 in Melbourne, studied systems from more than a dozen manufacturers at several friendly Under-18 and Under-20 national premier league matches.
In 2018 and 2019, the researchers – including VU and Western Bulldogs AFL Head of Research and Innovation Associate Professor Sam Robertson – travelled to Barcelona, Spain to compare 15 player tracking manufacturers for their accuracy against the VICON system.
Nicolas Evans, FIFA Quality Program Group Leader in charge of setting technical standards, said FIFA chose VU after a long selection process because its proposal was "a good mix of scientific endeavour and a very practical solution to achieve what we're looking at – a full-scale analysis of a football match."
The VU team also includes Dr Kevin Ball, Dr Fabio Serpiello and Professor Hans Westerbeek.