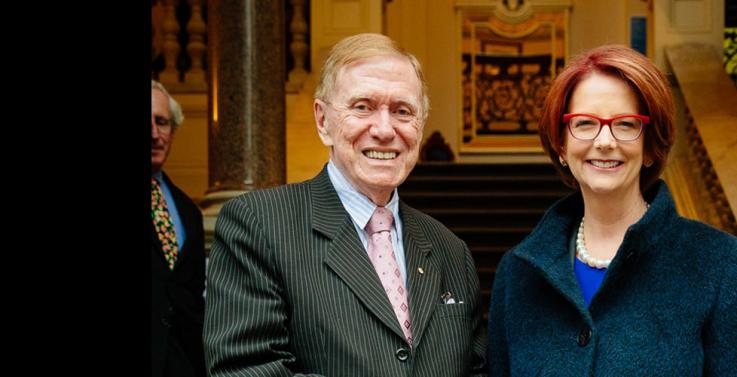 The Hon Julia Gillard tackled equality and challenges to reform at Victoria University's fifth annual Kirby Oration.
Addressing a packed lecture theatre at the University's historic Queen Street building in the heart of Melbourne's legal precinct, Dr Gillard seized the opportunity to discuss marriage equality and modern challenges to good governance.
Dr Gillard said she had developed a sense of concern about the current government's proposal to have a plebiscite or referendum on same sex marriage, and flagged potential long term ramifications this could have on democracy and future capacity to reform.
"I feel a responsibility to respectfully lay out a case for rejecting this idea of a plebiscite or referendum and, with your indulgence, I intend to do so this evening," Dr Gillard informed the audience of students, staff and guests of the University and legal communities.
"Indeed, given the important lessons Michael (Kirby) and his much loved partner Johan have taught our nation about bravery, honesty and inclusion, there could be no better occasion than tonight for me to make these remarks."
The Hon Michael Kirby, one of the longest-serving judges in the High Court of Australia, spoke to the University about the need to address inequality of any form, and acknowledged personal challenges he had faced in his own life as an openly gay man.
He said law is a great equaliser, and encouraged anyone currently studying or practising law to 'uphold the endeavour for justice' by helping small people fight powerful people.
"Be a 'joiner'. Look for the disadvantaged because sometimes they miss out on the law," he said.
He urged all Australians to be vigilant to injustice, not only those in the law community. He recalled that some of his fondest career memories were fighting pro-bono cases to support people facing inequality, which he understood as he had experience this himself at times.
Dr Gillard too, suggested everyone could play a role in their own communities to support those facing challenges to equality. She explained that governments need to drive reform, but anyone can ignite change.
"This is a difficult age in which to sustain deep reform conversations and to build public acceptance of vital change. Not an impossible age for reform… But it is a difficult age," she said.
"The degree of difficulty will increase. Yet, this is also an age in which on-going reform will be vital."
The Kirby Oration is hosted annually by Victoria University's College of Law and Justice. Previous speakers include human rights champion, Julian Burnside and Chief Magistrate Ian Gray.
Recording & transcript