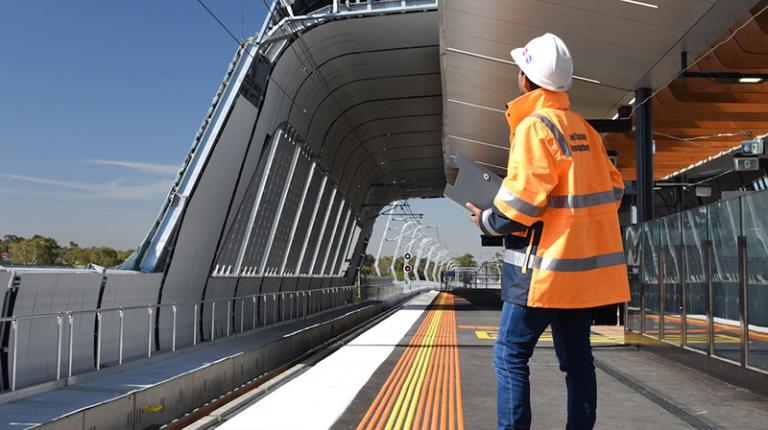 Three high-achieving students in VU's College of Engineering & Science have gained invaluable industry experience over the summer through CareerSeekers, a non-profit organisation that supports asylum seekers as they prepare for professional careers.
The students – Azizeh Astaneh, Aamir Ali, and Mujtaba Alizada – are putting their engineering education into practice through paid internships at the Rail infrastructure Alliance (RIA) at Metro Trains Melbourne.
VU asylum seeker liaison officer Julie Madden said CareerSeekers is a vital link to help committed students get professional experience with some of the Australia's leading corporate organisations including Lendlease, Macquarie Bank and KPMG. 
Demonstrating resilience & determination
Each of the engineering students participating in the internship at RIA has demonstrated strong determination to reach this point.
Azizeh Astaneh
Azizeh, originally from Iran, came to Australia with her mother and two siblings in 2013. Before embarking on a degree in electrical and electronic engineering, she studied graphic design and business administration at Victoria University Polytechnic.
She also founded a volunteer-run organisation dedicated to hosting art workshops for asylum seekers inside and outside of detention, the Melbourne Artists for Asylum Seekers.
In addition, Azizeh was recently awarded a scholarship for a 10-week entrepreneurship to grow an idea to improve the lives of refugees.
"Having witnessed and lived through the experience of gender inequalities, my goal is to become a role model for other women in the fields of Science, Technology, Engineering and Mathematics (STEM) and empower the next generation of women into leadership roles," she said.
Aamir Ali
Aamir came to Australia from Pakistan and belongs to the Hazara community.
He is completing a degree in mechanical engineering and contributing his knowledge and skills during his internship to RIA's system engineering and assurance team.
His goal is to own his own business after building his expertise as an engineer.
"Owning my own business will provide me with personal and financial freedom, and create more jobs for people in the community and contribute to the Australian economy," he said.
Mujtaba Alizada
Mujtaba arrived in Australia as a 16-year-old from Kabul, Afghanistan. After nearly two years on Christmas Island, he went to Darwin, and then Adelaide before moving to Melbourne for study.
"I was very lucky to get this chance to study my dream degree in Australia. I am very thankful to those who helped me to commence my studies back then which eventually led me to start a civil engineering degree at VU."
Mujtaba has completed other internships through CareerSeekers, and also runs VU's Refugee and Asylum Seeker Association social club. 
VU a leader in educating refugees & asylum seekers
Victoria University and VU Polytechnic are proud to host one of the largest groups of asylum seeker and refugee university students in Australia.
VU and VUP support hundreds of these students each year to reach their personal and career goals, which can include financial assistance of up to $20,000 through VU's asylum seeker scholarship program.