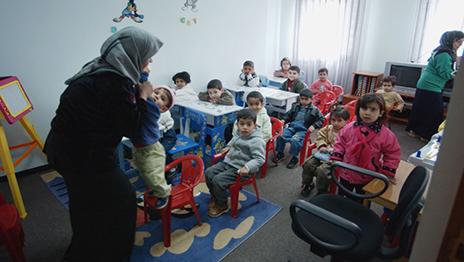 Dr Tim Corcoran, Senior Research Fellow at The Victoria Institute was recently invited to speak about psychological applications in education at a seminar presented at James Cook University in Queensland.
As a Critical Psychologist, Dr Corcoran has been involved with some unique projects in Iraq and the UK. His research investigates how critical psychologies can support equity and inclusion in education.
Dr Corcoran said he relished the chance to share his experiences and knowledge on how inter-disciplinary approaches can be applied to different educational contexts around the world.
"I was delighted to have the opportunity to show how working collaboratively with experts from various disciplines can build better educational outcomes."

"My work in Iraq and the UK is an example of how inter-disciplinary approaches can be used to improve educational practice."
The Council for Assisting Refugee Academics, a UK-based charity, funded a project where Dr Corcoran worked with several Iraqi health practitioners. The aim was to examine the inclusion of psychosocial training for paediatric students at the Al-Mustansyria Medical School in Iraq.
"Understanding how a individual's environment can influence their wellbeing is crucial for paediatricians in Iraq."

"Healthy human behaviour goes beyond a person's body. This is especially relevant when you consider how conflict over the last 20 years has affected the population in Iraq."
Dr Corcoran believes that understanding student wellbeing is important in a volatile environment such as Iraq, and in more stable educational settings.
"In the UK, Dr Dave Finney and I completed a series of interviews with teaching staff in West Yorkshire. We asked them: Is it an educator's job to promote mental health in schools?"

"Traditionally, education and health promotion are seen as largely separate enterprises. We wanted to find out if that was still the case. Should education be something more than students learning subjects culminating in a grade on a report card?"
The JCU seminar was attended by a range of professionals in the education sector, including teachers, school counsellors, academics and students.
"It was interesting to hear from the attendees about the sort of challenges they face in their work. Queensland is a long way away from Iraq and the UK, yet people are dealing with similar problems."
To find out more about Dr Corcoran's work, read his journal article Psychosocial research with children in Iraq: current health practice and policy in a context of armed conflict.