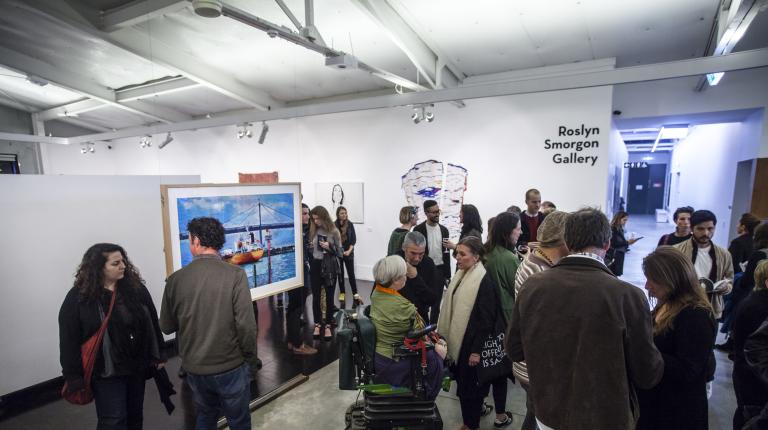 The Footscray Art Prize judging panel – made up of ACMI's Katrina Sedgwick, ACCA's Hannah Presley, and VCA's Raafat Ishak – have selected the shortlisted artworks for the 2019 Prize, following a review of over 600 entries across three categories.
The judges were impressed by the quality of work they viewed.
"The volume of entries gave me a good insight into some of the exciting work being created across the country and led to an enjoyable discussion with my co-judges," Hannah Presley, Curator at the Australian Centre for Contemporary Art said.
Thirty-three artworks from across Australia were shortlisted in the Footscray Art Prize main category, three in the Street Art category, and twenty-two in the Tertiary category. A range of mediums are represented, including a high number of contemporary sculptural and installation works.
"A highlight of the shortlist for me is the diverse materiality. Our selection is a dynamic offering that addresses themes of environment, place, identity and observation," Hannah continued.
Shortlisted artworks go into the running for a total cash prize pool of $17,500, including the coveted $10,000 main prize.
The Footscray Art Prize is a biennial non-acquisitive visual arts prize open to local and national artists across multiple disciplines.
It represents a significant overview of Australia's contemporary art scene, contributing to Footscray's reputation as a thriving cultural hub that supports and fosters the arts and celebrates artistic vibrancy and creativity.
The shortlisted works will be available for viewing at exhibitions being held at Footscray Community Arts Centre and VU at MetroWest.
Both exhibitions will be open from 20 June – 20 July, with the winner of each category announced during the opening night.
Awards
Opening night
Tertiary Art Prize and Young Artists Prize
VU at MetroWest
5pm – 5:30pm
Footscray Art Prize and Street Art Prize
Footscray Community Arts Centre
6pm – 8pm
Both exhibitions will be on display until 20 July. 
The Footscray Art Prize is proudly presented by collaborating partners Victoria University, Maribyrnong City Council, Footscray Community Arts Centre and the Rotary Club of Footscray, and is part of the Footscray University Town initiative. 
Shortlisted artists
Footscray Art Prize
Benjamin Aitken and Jon Cattapan VIC
Tim Brade VIC
Emma Bugg TAS
Renae Burton VIC
Andy Butler VIC
Patrick Dagg VIC
Julia deVille VIC
Megan Evans VIC
Tamirat Gebremariam VIC
Charlie Ingemar Harding VIC
David Hourigan VIC
Paula Hunt VIC
Bob Hutchison VIC
Elizabeth Kala Kala NT
Yasbelle Kerkow VIC
Alicia King VIC
Anna Kiparis VIC
Phong Chi Lai TAS
Adrian Lazzaro VIC
Nancy Lehet VIC
Anna Madeleine ACT
Craig Midford VIC
Lola-Mae Pink VIC
Michael G.F. Prior VIC
Ella Smart VIC
Samantha Sommariva VIC
Cezary Stulgis VIC
Jasmine Targett VIC
Louis Theuma VIC
Karen Thorn VIC
Shellie Tonkin VIC
Alan Young TAS
Myles Young NSW
Street Art Prize
Ling VIC
Creature Creature VIC
Justine McAllister VIC
Tertiary Prize
Klari Agar VIC
Prudence Bansemer VIC
Andre Bruzzese VIC
April Chandler VIC
Jessica Coombs VIC
Ceardai Demelza VIC
Mark du Potiers QLD
Fiz Eustance VIC
Michal Goldberg VIC
Tom Goodman VIC
Tameka Hague VIC
Letisha Hirniak VIC
Lewis Ihnatko NSW
Natasha Krcevinac VIC
Alessando Licul VIC
Leah Mariani VIC
Nigel Matejcic QLD
Claudia Phares VIC
Daniel Sherington QLD
Yara Ueltschi VIC
Holly Watson VIC
Leon Zhan VIC