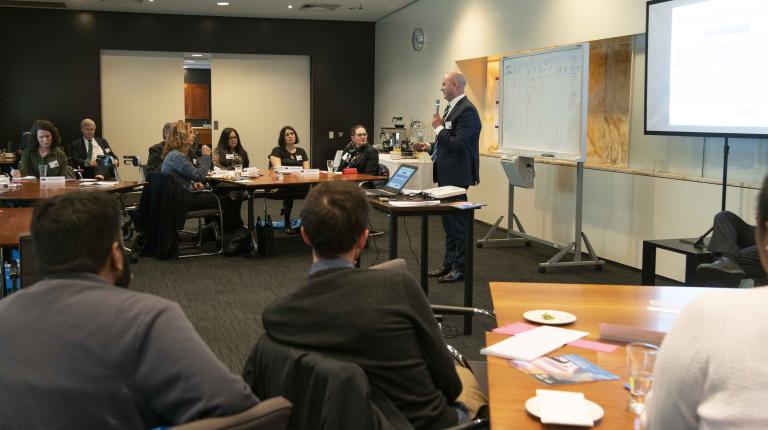 Leaders from a diverse range of communities met with judges from the County Court in September, for the second County Court Engagement Day co-facilitated by Victoria University's Sir Zelman Cowen Centre.
The event, which built on the success of the inaugural County Court Engagement Day, held in 2018, welcomed 21 diverse community leaders from CALD and faith-based communities, community service groups, advocacy and lobby groups, victims support groups and service providers.
Chief Judge Peter Kidd said:
"Our Community Engagement Day for 2019 was another tremendous success, bringing together community leaders and judges, for a two-way discussion on the work of the Court. The day represents an invaluable opportunity for both participants and judges to share their experiences, and learn from one another. I thank the community leaders for their enthusiastic participation and insights."
The two-way exchange allowed participants to learn more about the work of the Court, with a particular focus on sentencing, and for the Court's judges to hear directly from the community. As leaders in their communities, Engagement Day participants take these learnings back to share with their own networks and organisations.
Held at the County Court, the program was highly interactive, giving participants the opportunity to observe real court matters, participate in mock plea hearings, and meet with the judges and ask them questions about their role.
The day was co-facilitated by the Sir Zelman Cowen Centre and judges of the County Court, including Chief Judge Peter Kidd. 
The day is one of many steps the County Court is taking to ensure justice is open and transparent, and to engage directly with the community it serves. The initiative is closely aligned with the Sir Zelman Cowen Centre's focus on access to justice and community engagement by courts, and the Centre was pleased to be involved in the delivery of the day again in 2019.