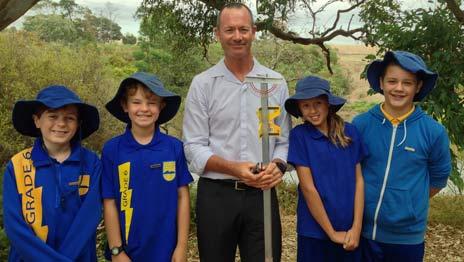 A Victoria University-led research team is currently working with Warrnambool East Primary School, Derrimut Primary School and Clifton Springs Primary School on developing a community-based environmental monitoring project.
The project is based on the Fluker Post system that engages grade 5/6 students, teachers, parents and the wider community in the ongoing monitoring of high value natural environments.
Dr Martin Fluker (Lecturer in Tourism, College of Business, VU) is part of a research team of 7 academics from three universities:
Dr Efrat Eilam, College of Education, VU
Dr Naomi Augar, College of Business, VU
Dr Martin Fluker, College of Business, VU
Dr Randall Robinson, College of Engineering & Science, VU
Dr Julianne Lynch, School of Education, Deakin University
Dr Georgia Garrard, School of Global, Urban and Social Studies, RMIT.
Torgeir Aleti, College of Business, VU.
As part of the project, participants from the three schools will be surveyed at both the beginning and the end of 2014 in order to measure differences in the attitudes and behaviours in relation to these environments.
Academic environmental experts will be providing valuable insights to the students on what changes are occurring at the different sites.
The project's vision includes expanding the number of schools involved, as well as developing a website that will enable student-to-student knowledge exchange.