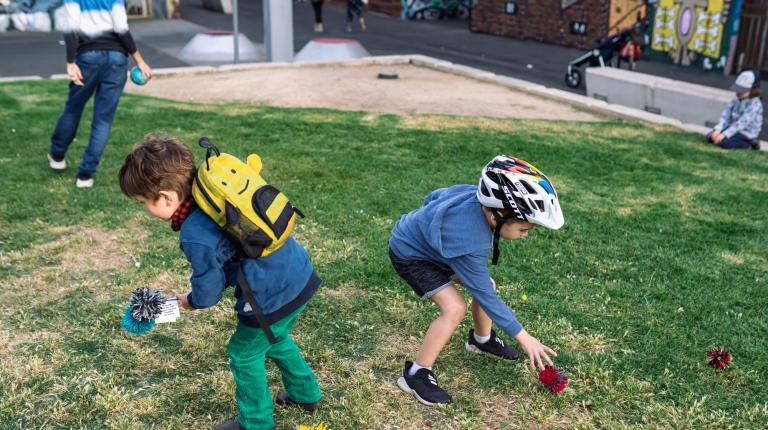 Maddern Square, a section of hidden open space in the back streets of central Footscray, will become a pop-up playground thanks to a 12-week residency called Mini Maddern.
Public Realm Lab, the brainchild behind Mini Maddern, saw an opportunity to change how people use Maddern Square through play. The group of local architects and urban designers were funded through the Maribyrnong City Council and Victoria University place-making residency program, a Footscray University Town initiative, to bring their urban playscape idea to life. 
Kicking off the residency is a Build Party that brings children, educators, design and construction professionals, and the community together to create and assemble a playground using recycled materials.
"The goal is for the big kids (adults) to set a loose framework that responds to the need for safety, surveillance and legibility … and then let the little kids loose."
- Public Realm Lab
VU students & staff to supervise
Throughout the 12-week residency, Victoria University Early Childhood students and staff will be running sessions that encourage children and their families to engage with the space through making, craft and loose parts play.
Associate Professor Mary-Rose McLaren, Bachelor of Early Childhood course chair, says:
"When children play they collaborate, share, talk, listen, experiment and practice developing skills. The role of our Early Childhood students is to participate in this learning, and to guide the children as they develop their thinking. They ask questions, share experiences, and wonder along with the children."
It will be the students first in-person placement in over a year during which many students had remote placements. While the students learnt a lot, Mary-Rose acknowledged that it's not the same as being physically present with young children.
"It's so exciting for our students to be playing with young children and their families again. This is something our students missed – no amount of remote placement can replace this experience."
Sarah Jobson, Diploma of Early Childhood course chair, added that "it's an amazing opportunity for VU's early childhood teaching students to have the experience of guiding others in the community to feel comfortable exploring and expressing new ideas through play".
Residency will encourage year-round play
Alongside these sessions is a series of programmed events conducted by other local organisations, including Bunnings. Their famous sausage sizzle is being brought into Maddern Square, with all proceeds being donated to the Asylum Seeker Resource Centre, and team members are rolling up their sleeves to help out throughout the residency.
Mini Maddern is challenging the public perception of Maddern Square with the aim to encourage children, their families and friends to use the space year-round. A safe and unique play experience will be created in the west, reminding people that the city belongs to us all as a collective.
Come play & learn with us!
For more information visit www.minimaddern.com.au, and follow the fun on Instagram @minimaddern. 
Key dates:
Build Party (Opening Event): 27 - 28 March
12 Week Activation: 29 March - 23 June
Demo Party (Closing Event): 25 - 26 June