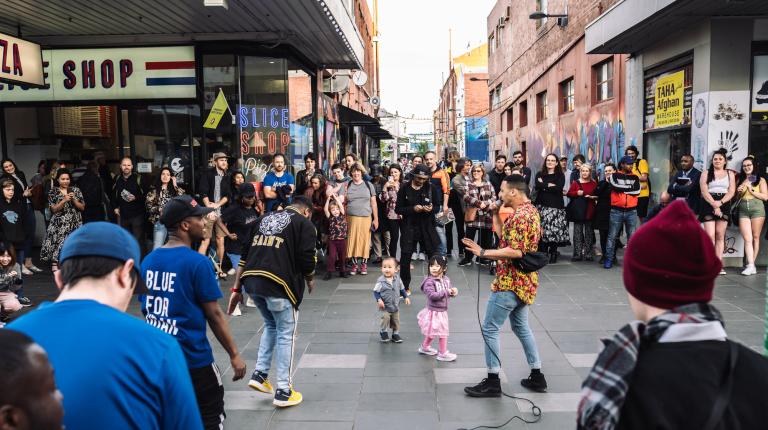 Artists and creative people from Melbourne's West, or those with a strong connection to Footscray, are encouraged to submit an expression of interest for the 2020 One Night in Footscray program to be held on Friday 4 December.
One Night in Footscray has been bringing audiences together since 2017 to experience the art spaces, galleries, venues and local talent Footscray has to offer over one electric summer night.
Designed as a self-guided twilight journey, the program is driven by a Coordination Committee comprised of local artists and creatives, and features an exciting array of experiences in different mediums across unexpected locations.
In 2020, COVID-19 has had a major impact on the art and event sectors. Going ahead with One Night in Footscray on Friday 4 December will help revitalise this sector locally, while also providing a much-needed cash injection to support artists and small businesses in Footscray. The event will follow relevant health precautions to ensure audiences can safely enjoy this special event and celebrate Footscray's creative spirit together.
Artists are invited to apply for a grant to exhibit or perform their work in galleries, shop fronts, venues and on the streets of central Footscray as part of this exciting program. Be creative and experimental – all forms of art are encouraged, including but not limited to live music, roving entertainment, art in unexpected locations, and shopfront-window artist creations.
Successful artists will be provided with small presentation grants for artists and performers, including artist fees and materials.
One Night in Footscray's mission is to:
encourage journeys through central Footscray and its creative spaces
highlight the work of local arts and makers
support emerging practitioners and students and create new opportunities to engage with art in public spaces
promote and encourage audiences and artists to see, experience and interpret Footscray, its people and places.
Applications close 5pm, Sunday 28 June 2020.
One Night in Footscray is proudly co-produced by Victoria University and Maribyrnong City Council as part of the Footscray University Town initiative.
Expressions of interest close at 5pm on Sunday 28 June