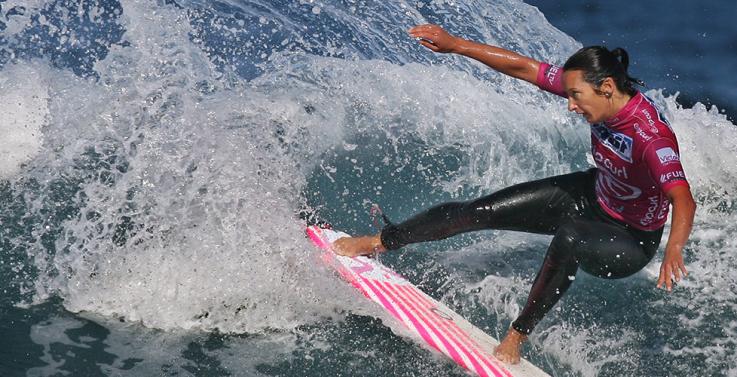 Layne Beachley joined some of VU's elite student athletes and Alumni at the Victoria University Sport Dinner on 25 August.
The second annual VU Sport Dinner celebrated women in sport.
In her keynote address, the seven-time World Champion surfer shared her three keys to success - motivation, determination and inspiration. Guests were spellbound as she spoke about being a successful female athlete in a male dominated sport, and the lessons she has learned from sport, which have transcended beyond the waves into her business and personal life.
Adding to the discussion, VU alumna Rachel Murphy explained how she rose to a senior position at the Western Bulldogs, now one of six senior women at the Bulldogs. Current World Water Ski Jump Champion, and one of VU's elite student athletes, Jacinta Carroll spoke about how she retained her world no.1 ranking, while also maintaining a distinction average in her Bachelor of Exercise Science and Human Movement degree, despite her international travel commitments and daily commute from Geelong.
Guests were also treated to an interview with two stars of the recent Commonwealth Games in Glasgow. Four time Olympian, and current student, Miao Miao and VU alumnus Liam Adams, shared their experiences and successes in Glasgow, their journey to get there and their aspirations for the future.
The event also showcases Victoria University as Australia's Sport University.
Fundamental to our success as Australia's Sport University is the success of our students. As one of the leaders in establishing the Elite Athlete Friendly University Network, Victoria University are one of the few universities to provide Sport Scholarships in order to attract, encourage and assist elite athletes and aspiring elite athletes with their sporting and academic pursuits concurrently.
All proceeds from the 2014 Victoria University Sport Dinner have been directed to supporting Sport Scholarships and you too can help us continue to provide student athletes, like Miao Miao and Jacinta Carroll with the opportunity to achieve their sporting dreams by making a donation today.