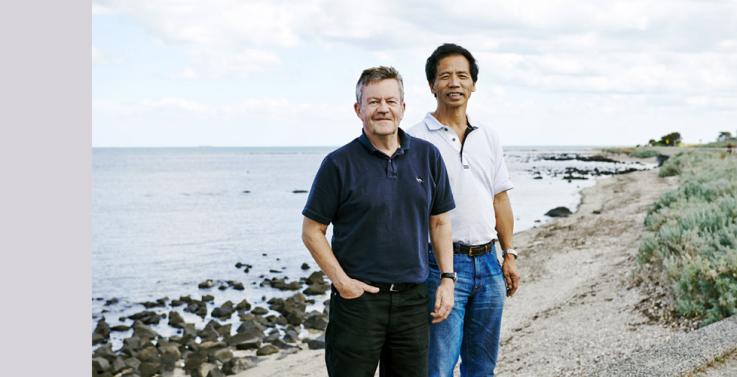 Scientists have invented an award winning tool for saving penguins and other wildlife caught in oil spills.
Professor John Orbell and his team developed the hand-held portable device, which uses magnetic particle technology to remove oil from animals in a faster, more effective and less invasive way than traditional methods.
"The method works by applying oil absorbing magnetic micro-particles to oiled plumage, fur or even rocks," Professor Orbell explained. "These magnetic particles, which bind strongly to the oil, are then harvested and disposed of with the hand-held magnetic device."
The magnetic particles in this process were developed and perfected through years of research involving scanning electron microscopy, atomic force microscopy and mathematical modelling. This 'magnetic cleansing' is inherently portable and can be carried out wherever the oiled wildlife is found, which is often in remote coastal locations.
Traditional detergent cleansing methods involved removing animals from their environment before attempting to clean them.
"The real value in this technology is how it allows a quick clean in the field so the more toxic or corrosive components can be removed from the wildlife as quickly as possible," Professor Orbell said.
"This greatly enhances the animal's survival chances after their release."
Penguins contaminated in oil spills become susceptible to hypothermia as the oil reduces the waterproofing and insulating properties of their plumage. Penguins can also ingest the oil while trying to preen themselves, which leads to poisoning and internal organ damage.
While the portable 'wand' allows for cleaning on site, its design also means oil-laden particles can be readily disposed of in an environmentally responsible way, or even recycled, rather than creating further environmental problems.
In October 2014 the project was one of 10 finalists in the Google Impact Challenge Australia - a Google grant competition for charities developing technologies to tackle global problems and transform lives. Four finalists were awarded $500k based on public votes and a judging panel. The remaining six, including the Oil Spill Wand, were awarded $250k from Google.
In 2013, the invention earned Victoria University researchers and their partners at the Phillip Island Nature Parks a prestigious Banksia Sustainability Award. This award recognises leadership in implementing a relevant solution to enhance the longterm social, economic and environmental state of the community.
Along with the wand's invention, the team has also developed methods to determine the best pre-treatment agents for a long list of toxic contaminants and bird types, in a project funded by the Australian Research Council.
"Some oils are very difficult to remove from plumage and the right pre-treatment agent can be one of the critical aspects for quick and effective cleaning," Professor Orbell said.
The Victoria University team of Professor Orbell, Professor Stephen Bigger and Dr Lawrence Ngeh worked in close collaboration with Phillip Island Nature Parks Research Manager Dr Peter Dann. Over the past 12 years, the project has also involved a number of successful PhD and Honours students and a Postdoctoral Fellow.
Phillip Island Nature Parks CEO, Matthew Jackson, said he was proud of the contribution both partners had made to wildlife protection after investing so many years in the technology's development.
"This technology, based on solid research and testing, has the potential to revolutionise the treatment of oiled wildlife around the world – especially penguins," Mr Jackson said.
Other partners supporting this project include the Australian Research Council, Sea World Research and Rescue Foundation, the Australian Maritime Safety Authority, BHP Billiton and the Penguin Foundation. It was also supported through the Australian Government's Collaborative Research Network.
This was one of 20 collaborative research projects featured in the new Research Highlights publication.