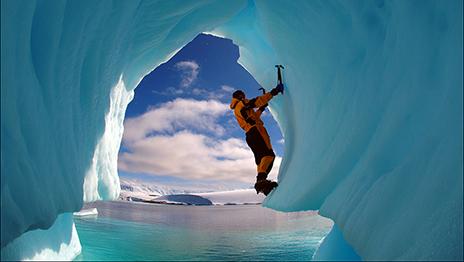 VU recently played host to explorer, Troy Henkels, as he shared his adventures and experiences with the AVID program students.
The Victoria Institute is leading the implementation of the AVID university-readiness program in 22 schools across Australia with HEPPP funding support.
Troy's visit to Australia offered AVID Australia the unique opportunity to expose students to a person whose willpower has enabled him to accomplish some remarkable feats.
Troy's a renowned mountaineer, ice climber, paraglider, journalist, mountain biker, kite surfer, musician, photographer, cinematographer, and most recently published author.
His expeditions have taken him to some of the most remote and challenging landscapes around the globe. From Alaska to Antarctica, the Kalahari Desert in Africa to Mount Everest and South America (to name a few) -- Troy is use to encountering and prevailing over harsh weather conditions and plenty of challenges.
The AVID connection
Claire Brown, Associate Director, at The Victoria Institute said that Troy is a truly inspiring figure and a great role model for young students thinking about their future careers.
"The AVID program values rigour and determination in the quest to give students an education that prepares them for university and life."
"Over the course of Troy's extraordinary career he's displayed all of those qualities in high stake situations, where a person's choices can be the difference between life or death."
"He's combined his passion for the outdoors and adventure sports with the necessary skills and knowledge to pursue his dream. His approach echoes the AVID program's philosophy."
Troy's career journey
Troy's been undertaking expeditions for over 20 years with his first endeavour coming in the September of 1992, at Fang Mountain in the Denali National Park, Alaska. This climb followed a sequence of events that would shape his future.
He was born and raised on an apple orchard in Iowa. His dad taught him to appreciate nature and the opportunities it offered.
Troy graduated from the University of Northern Iowa with a BA in Business Management and after a short stint in the corporate world, decided to move to Alaska.
He started pursuing outdoor activities as a means to witness and experience the Alaskan wilderness. Before long, he found that the skills he learned at school and university were becoming very useful and crucial to his survival.
"Completing a successful expedition will challenge you physically and mentally. You have to be prepared to face those battles with the right attitude, equipment and knowledge."
"Building a competent skill set and understanding about the risks you'll encounter will help you along the way. Many people consider some of my travels and activities as crazy and dangerous. I believe you can achieve any challenging goal with thorough preparation and determination."
"My friend fell through the ice on one of my adventures. I had to make a split second decision. Do I jump in after him, and risk both our lives, or find an alternative solution? I quickly grabbed a piece of rope, threw it in after him and rescued him from the enclosing ice. Preparation and knowledge enables you to think quickly on your feet and make an informed, rather than rash, decision."
Read more about the AVID Australia project and Troy Henkels.