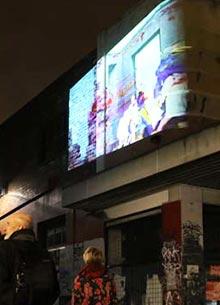 The Victoria University Arts Week and West Projections festival is coming up!
As part of the festival we are on the hunt for video artists. The theme is 'states of blue', celebrating the centenary of Victoria University.
If you have existing video work or are thinking of creating video work, here is your chance for great exposure.
If selected, your work will be exhibited as part of West Projections, a four-week projection festival held in sites around Footscray from 15 August to 11 September 2016.
Key dates
Projection festival: 15 August to 11 September
'States of Blue' art walk and VU Arts Week Launch in Maddern Square: Friday 26 August
Guided walks 20th of August, 26th of August, 3rd of September (children's walk) and 10th of September.
Closing street event: Saturday 10 September
Submit your video
Your video work must be no more than three minutes long. To submit your video, email [email protected] and include:
your video
a description of your idea in 100 words or less.
Submissions close on 15 July.