This will follow the retirement of the current Vice-Chancellor Professor Elizabeth Harman in December 2010.
Professor Dawkins has had a distinguished academic career, both nationally and internationally.
Commencing his tertiary studies in the field of economics he subsequently undertook a wide range of roles incorporating teaching, research, management and leadership, in universities in the UK and Australia.
In 1996 he was appointed to the position of the Director of the Melbourne Institute of Applied Economic and Social Research at the University of Melbourne. The Institute became widely regarded as the leading institute of its kind in terms of academic achievement and its impact on public policy and debate. His achievements as a leading researcher were recognised in 2001, when he was elected as a Fellow of the Academy of Social Sciences in Australia.
Most recently he has held high level leadership roles with the Victorian Government, firstly as Deputy Secretary of Treasury and later as Secretary to the Department of Education and Early Childhood Development. These roles have allowed Professor Dawkins to further demonstrate his leadership in education policy and practice in Victoria, and on the national stage.
The Chancellor of Victoria University, Mr George Pappas has welcomed the appointment,
stating that "Professor Dawkins will bring to the University an outstanding range of experience and skills which will be invaluable in leading the University to the next stage of its development. VU is a large and complex multi-sector institution that requires a leader who can demonstrate a commitment to its strategic direction and values and to the mission to transform the lives of its students. Professor Dawkins is such a person and the University Council has been unanimous in support of his appointment."
Professor Harman also echoed these sentiments, highlighting the rigour and passion for quality education which have guided Professor Dawkins' educational career. "I am delighted that my successor is such a distinguished academic and educator with a proven track record in leading a large and complex organisation. Professor Dawkins deeply understands VU's mission and values and I am sure he will inspire the whole University community to greater heights."
Professor Dawkins has expressed his delight at being appointed to this important role. "Victoria University has a very exciting mission. This is to transform the lives of students from very diverse educational, socioeconomic and cultural backgrounds, through high quality teaching and learning. It can also make a big difference to the West of Melbourne and the whole of Victoria through its research and engagement with business, government and the broader community, and have a significant national and international impact. I look forward to building on the very substantial achievements of the University under its current Vice-Chancellor. Victoria University can now realistically aim to be widely regarded as a great university of a distinctive kind."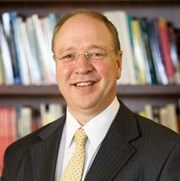 Professor Peter Dawkins