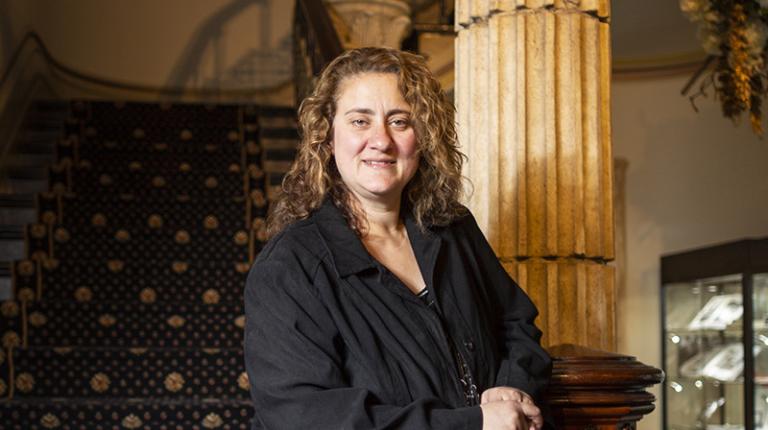 Professor Vasso Apostolopoulos has been named one of the world's most significant Greek researchers for her 25 years of work on cancer-fighting vaccines.
The Salus Index Award 2019 was presented today in Athens to Dr Apostolopoulos, VU's Pro Vice-Chancellor (Research Partnerships), and accepted in absentia by one of her research collaborators in Greece, Professor John Matsoukas.
The prestigious awards, by New Times Publishing, are presented annually to Greek researchers who have made a significant impact in medicine.
The Salus Award will join more than 100 other awards Dr Apostolopoulos has received for her outstanding and prolific research, which led to the world's first breast cancer vaccine and ovarian cancer vaccine.
"This award will sit in a special spot, together with my other awards, and each one is very special to me.
"I am proud to be a Greek of the diaspora. Receiving an award from Greece makes me want to work harder to keep the Greek name shining around the world."
Dr Apostolopoulos has published more than 360 research papers and books, and is an inventor on 17 patents and 90 sub-patents. She says her research in VU's Institute for Health & Sport is stronger now than ever.
It focuses on immunotherapy – systems that harness the power of the body's immune system to identify and destroy cancer cells by educating the body's immune system to improve its own defences.
Her original methodology, which proved effective for breast and ovarian cancer, was recently used to develop novel vaccines against multiple sclerosis. She is currently developing vaccines for Type 1 diabetes, rheumatoid arthritis, leukemia, and a range of other disorders.
She is also interested in treating mental health disorders, drug addiction, inflammatory bowel disease and cardiovascular disease.
Greek community support made research possible
Dr Apostolopoulos says her important work would not have been possible without major contributions and early support from Australia's Greek community.
"If it wasn't for their important fundraising events and donations towards my research over the years, we wouldn't be at this stage with the vaccines."
Dr Apostolopoulos came to Victoria University five years ago from the Austin and Burnet Research Institutes, after postings around the world, including at Oxford University and the Scripps Institute in San Diego.
She said she chose to work at VU because of its welcoming culture and the growing opportunities in Melbourne's west, where she was born and continues to live.