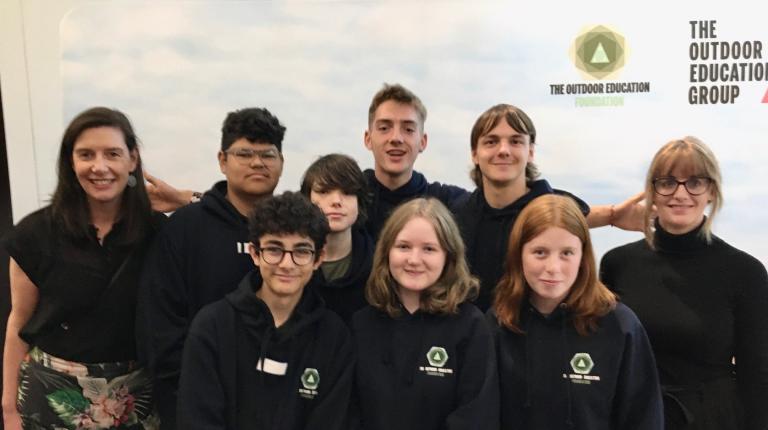 Most of us dream of having a life-changing adventure. The young people who gathered today at Victoria University's Footscray Park Campus have just returned such an experience. The 32 students, aged between 14 and 16, have just returned from the first Together We Grow program, an initiative created by the Outdoor Education Foundation.
At the VU event hosted by Ross Coller, VU's Executive Director Engagement and Advancement, participants, parents and school groups were invited to celebrate the success of the program, receive graduation certificates and share stories about the how the pilot Together We Grow program positively influenced their lives.
Over the course of ten days, a group of students from eleven schools in the west of Melbourne took part in a four-day bushwalk, cooked their own meals over an open fire, rock climbed and abseiled.
After conquering the great outdoors, the group was moved into cabins in order to focus on mastering urban skills, fostering independence. They took a course on public speaking, and participated in Aboriginal cultural workshops.
The last few days took place back in Footscray, where participants worked with local community groups to prepare meals for the homeless and plant trees. The group also spent time at VU discovering possible career pathways after secondary school. 
As part of the graduation ceremony, students practised their public-speaking skills and addressed the large crowd. With his new friends cheering him on from the front row, George talked about how apprehensive he felt during the first couple of days: "As a group, we started off not working well at all. We were out of our comfort zones and there was a lot of yelling. However, once we started to work together, and put our minds together, everything got easier. I even conquered my fear of heights. Everyone here today got something out of the experience and achieved something important."
Leading partner of The Outdoor Education Group Dr Kara Dadswell from VU's Institute for Health and Sport will independently evaluate the success of the program, and share key findings with program partners. It is hoped that the findings will secure funding to support the next Together We Grow camp.