AFLW gets a kick out of new findings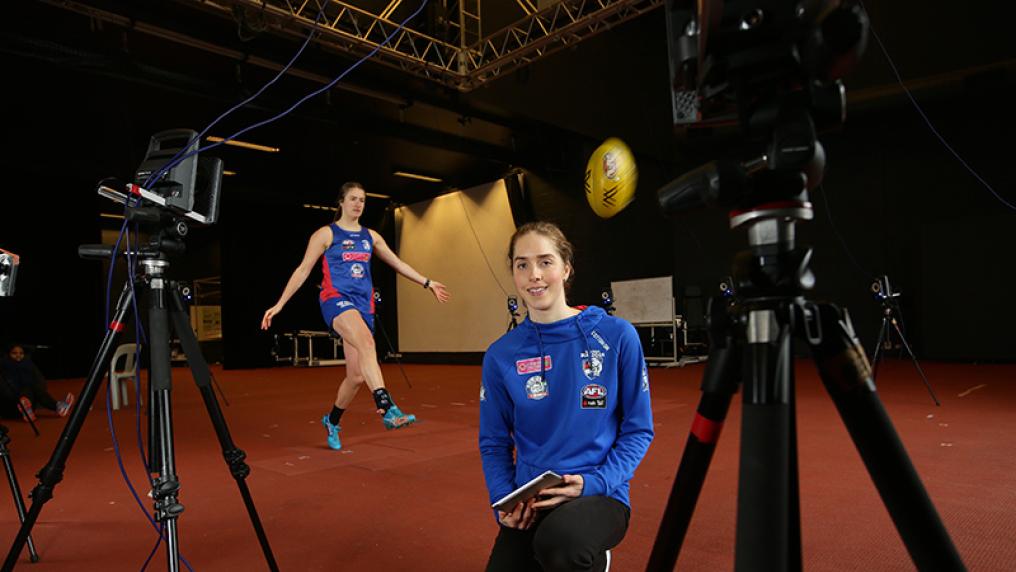 New research by Victoria University's Dr Emily Cust reveals first-time insights into how female Australian Football League players kick compared to male players.
Thursday 11 February 2021
New research by Victoria University's Dr Emily Cust reveals first-time insights into how female Australian Football League (AFL) players kick compared to male players.
In Aussie Rules football, a well-executed drop punt is a skill every player aspires to perfect. While there is extensive research to examine the performances of male players kicking, this new study, An Investigation into Kicking in Women's Australian Football, is the largest and first of its kind with AFLW (AFL Women's) players.
Using a 3D motion-capture system, Dr Cust measured elite women's foot and ball velocities, kick impact efficiency, kick movement patterns and kick strategies. The results reveal differences in movement patterns between women's and men's kicks: the women had a greater knee and hip range of motion, and faster knee action speeds while kicking for both their preferred and non-preferred kick legs.
The women also showed less knee bend on the support leg during higher impact kicks.
The study is important because of the high impact and repetitive nature of kicking in elite Australian Football, leading to athlete-specific strengthening programs to avoid injuries.
In addition, by identifying technical kick skill differences for individual athletes, tailored coaching strategies specifically for female players could result in more accurate and powerful kicks.
Dr Cust said that despite the considerable expansion of the AFLW league and the importance of creating solid foundations for athlete skills and talent development pathways, overall, sport science research on women's Australian Football performance remains limited.
Emily completed the unique three-year study in 2020 as part of the VU-Western Bulldogs research partnership.
"The growth of women's sport from grassroots to professional competition has been fantastic, but AFLW has a unique set of constraints such as altered rules, reduced training and sport science support structures, less defined athlete development pathways, and a high number of cross-code athletes transitioning from another sport. Consequently, the transferability of men's research to the women's game is questionable and largely unknown," she said.
The findings and continued research in the area have the potential to shape the future of women's coaching practices and highlight the need for dedicated, stand-alone sport science research and specific coaching for elite women's AFL, which could be applied to other elite women's team sports.
Dr Cust is available to provide expert comment on:
why female footballers kick differently to men
how tailored coaching from the findings could reduce injuries in AFLW players
the importance of research dedicated to the development of AFLW players.
"There is still so much more to explore; the more we understand the unique characteristics of AFLW skilled performance outcomes and highlight the differences to men's research, the more targeted information we have about individual players and team dynamics."