Wednesday 5 November 2014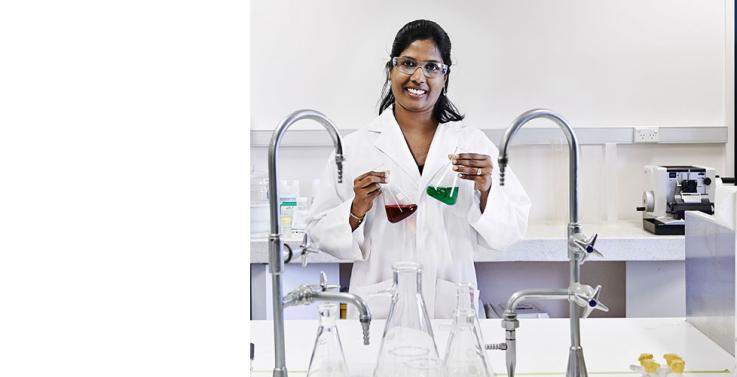 Researchers are finding new uses for food by-products to solve waste disposal issues for the dairy industry.
College of Health & Biomedicine researcher Dr Jayani Chandrapala is investigating potential uses for the 'acid whey' by-product created during the fermentation of Greek yoghurt, soft cheeses and related products.
The Australian dairy industry produces millions of litres of acid whey annually while internationally, especially in the USA, those figures are even larger. It is estimated that around 800 million litres of acid whey was produced from Greek yoghurt production in the USA during 2013.
"The highly acidic nature of acid whey makes it a tricky product to deal with and until now it's proven difficult to process for reuse or disposal," Dr Chandrapala said.
"With the growth in popularity of Greek yoghurt and cream cheese, this problem of what to do with acid whey is also increasing."
Storage and disposal of acid whey is subject to strict environmental regulations and can involve significant costs to business. Although it contains some nutritionally valuable components, acid whey's pungent odour and undesirable flavour make it unsuitable for use as a food ingredient and limits its use in animal feeds. Meanwhile, alternative uses in producing ethanol or biogas are often not cost effective for smaller dairy producers.
Dr Chandrapala said that unlike acid whey, the hi-protein and low acid 'sweet whey' by-product from hard cheeses could easily be spray dried to make powders used in energy bars, baby formula and milk drinks.
Now working in close collaboration with the Australian dairy industry, she is developing a range of trials to see how the elements of acid whey can be similarly processed and reused, potentially saving millions of dollars for industry.
"If we can isolate purified lactose, which can be used for infant formulas, then we're turning an expensive and environmentally sensitive disposal issue into an environmentally friendly money earner – that's the type of outcome we're after," she said.
Researchers are currently studying the chemistry of acid whey components before moving onto membrane processing techniques to effectively separate the lactose, lactic acid, proteins and minerals for spray drying and reuse.
Dr Chandrapala said being a Victoria University Industry Postdoctoral Research Fellow – working with Dairy Innovation Australia Limited (DIAL) and Professor Todor Vasiljevic at Victoria University's Advanced Food Systems Research Unit – made for productive research collaboration.
"Working with DIAL is great because they provide detailed feedback on industry challenges, their needs and how the technology could fit into specific sections of that industry," she said. "While in this research unit my passion for applied research to solve dairy industry issues in a results-focussed and collaborative way is really well supported."
The Victoria University Industry Postdoctoral Fellowship Scheme supports outstanding early career researchers to build strong and active research collaborations with an external industry, government or community partner organisation during their four-year appointment.
This project is one of 20 featured in the Research Highlights publication.