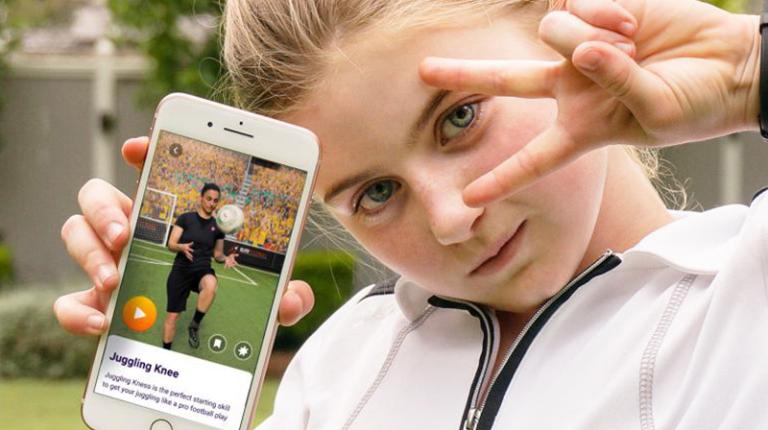 US-based Techstars, one of the biggest accelerator programs in the world, has joined with Launch Vic, Tennis Australia and Victoria University to launch Australia's first Techstars Sports Tech Melbourne Accelerator.
For the last three months, ten start-ups in the accelerator program have been meeting with mentors and refining their pitches ahead of Demo Day on 27 August.
Katherine Maree Pace, CEO of Elanation shares her insights about mentors, what success looks like, the good days… and the bad.
Q&A
Can you describe Elanation?
Our mission is to get one billion kids moving daily and make Elanation the number one health and fitness app for kids. We believe that any kid, anywhere, has the ability to learn, try or explore any sport they like, right from their home.
What inspired you to get involved in the Techstars Sports Tech Accelerator program?
Todd Deacon, the Managing Director of the Techstars Sports Tech Accelerator wrote to us directly and invited us to apply. We were thrilled to see Tennis Australia and Victoria University as partners. Since joining the accelerator, Elanation has partnered with the team at Tennis Australia and we have launched a pilot program inviting kids and coaches in the Tennis Australia network to connect and learn skills via the Elanation app. Our collaborative aim is to help kids learn tennis from home and improve the coach and child relationship, especially during COVID-19.
How did you feel about making it to the final ten?
Proud. Less than one percent of start-up applicants (globally) get accepted, so we are very proud.
What are three things you've learned during this experience?
Surround yourself with exceptional mentors who have been in your shoes before. Describe the outcomes of your day using numbers. And have fun!
Tell us about your best day, and your worst
Our worst day was also probably one of our best days. During the accelerator you go through a phase called 'mentor madness' where you have 60 mentor meetings in 14 days. One day we had booked back-to back 30 minute meetings from 6am to 9pm. It was incredible to receive such high-calibre advice in short sprints from a range of experienced mentors. But after two weeks of back-to-back zoom meetings we were definitely ready for some nature time.
Why are mentors important?
They inspire you to be the best version of yourself (and thus your business). They motivate you when you are having challenges. They are also a great sounding board where you are tossing up between different options when a decision has to be made.
What does success look like to you?
Healthy, happy, physically active children. Today, 70% of kids drop out of organised sport by age 13 and 80% of kids do not achieve 60 minutes of physical exercise daily. Sport has become too competitive and no longer fun for millions of children. Kids today are born digital natives so we needed to breathe the fun back into daily movement for kids, using the tools and technology that they love.
What advice would you give to people thinking about creating their own start-ups?
Don't believe everything you think. Test and validate your assumptions as early as possible and celebrate when you realise your assumption was wrong – it means you learned something and are becoming wiser in your domain.
What are your plans for Demo Day?
To deliver an exceptional presentation to a global audience and connect with people who want to join us in seeing more kids moving each day.