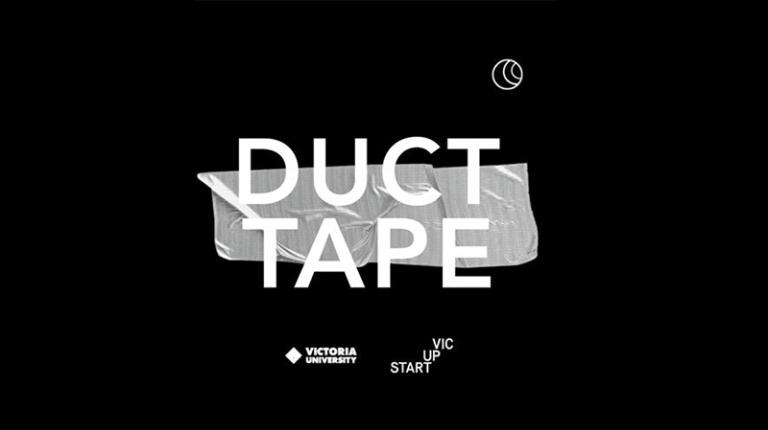 Victoria University and Startup Victoria are launching the premiere of the Duct Tape podcast – a mini-series exploring how extraordinary local founders tackle unexpected problems. Issue One of Duct Tape took the form of a printed magazine. Now it is back as an unmissable new podcast mini-series.
The ten Victorian startups represent the best in ingenuity, persistence and business agility. The path from taking a 'great idea' right through to a bona fide business is never easy, and during each interview the startup founders talk candidly about the realities of running and growing their businesses, in a global pandemic.
Over 10 episodes, founders from a diverse cross section of Victoria's startup landscape talk with co-hosts Hannah Gee (VU), Jordan Gianfrancesco (VU), Judy Anderson (SV), Poppy Trewhella (SV) and Lara Chan-Baker (producer) about their #DuctTaperMoments and the ingenious ways they got things back on track. Just like duct tape, these fixes are often last minute and are not always elegant, but they keep things going at a time when that's all that matters. 
Whether you are an experienced entrepreneur, a fledgling founder, or a future founder-to-be, the podcast gives audiences a rare, inside look at the reality of startups, across a diverse range of areas including:
Mindset Health, a business producing hypnotherapy programs to manage a number of health issues, including anxiety and Irritable Bowel Syndrome
Swoop Aero, which works with partners, including non-government organisations, to deliver medical supplies using drone technology
Milkdrop, a business founded by Alexandra Sinickas plans to revolutionise breast pumping globally for the millions of women suffering unnecessary pain by creating a soft silicone cushion that fits most breast pumps.
CEO of Startup Victoria Judy Anderson said each episode in this podcast mini-series tells a unique and inspiring story about the reality of the founder mindset:
The interviews capture the true spirit of tenacity as startup founders share insights into how they tackle the unique challenges that arise when you're building a business from the ground up. Collectively, the founders featured in Duct Tape Issue Two have generously shared an enormous amount of invaluable insight and, along with Victoria University, we are extremely proud to have been a part of their journey.
Register for the premiere
Register for the virtual premiere of the Duct Tape podcast (Tuesday 5 October, 4–5pm) to hear about the behind the scenes challenges of producing the show and some of the hosts' favourite moments, and to hear from special guests.
Featured founders