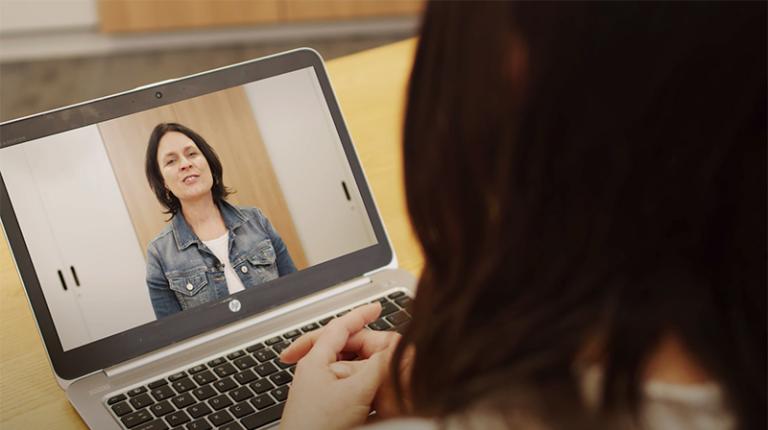 The act of 'self-care' must become standard behaviour for Australians, according to a new report from Victoria University's Mitchell Institute.
But being able to look after our own health and well-being is not always easy, even during non-pandemic times.
Toward this national goal, VU's community health clinics are offering free telehealth services in psychology, osteopathy, dermal skin care, and exercise and rehabilitation.
In a win–win, clients not only get to access professional care from the comfort of their homes, but VU and VU Polytechnic students acquire the practical training and experience they need to start their careers.
Psychology clinic
VU's psychology clinic specialises in cognitive-behavioural and psychodynamic therapies, which can help in assessing and treating depression, anxiety and other conditions.
Psychology Clinic supervisor and VU alumna Alana Howells says the uncertainty caused by the pandemic can provoke anxiety, triggering what is known as the 'attachment behavioural system', which serves to keep us safe through our social connections.
Psychology sessions are provided by VU provisional psychologists, supervised by experienced psychologists.
To schedule a consultation call +61 3 9919 2353 or email [email protected]
Osteopathy clinic
Anyone suffering from back or neck pain, or needing advice on the best home office set-up to optimise good health, can book a free 45-minute appointment with VU's osteopathy clinic.
Clinic coordinator Kelley Mumford says while telehealth is not a replacement for face-to-face services, it's the next best thing for self-management, rehabilitation, education and advice.
Osteopathy sessions are available weekdays 8am-6pm with VU's Master of Osteopathy students, under the supervision of accredited osteopaths.
To schedule an appointment call +61 3 9919 1111 or email [email protected]
Dermal clinic
VU's dermal science clinic can assist with advice on home-management strategies for inflammatory skin conditions, skin concerns, or general skin care.
Clinic coordinator Jennifer Byrne says many clients are missing out on regular skin treatments, which can impact on their self-esteem and quality of life. As a result, people as far away as Canada are seeking online consultations.  
One-hour consultations are available Tuesdays, Wednesdays and Thursdays between 9am and 5pm.
To schedule an appointment call +61 3 9919 7897 or email [email protected]
Exercise rehabilitation clinic
VU's Clinical Exercise & Rehabilitation (VUCER) clinic offers exercise programs to help otherwise healthy people with their injuries or conditions.
VUCER clinic manager Danilo Mangiameli says the telehealth service has improved exercise compliance of clients: they're more inclined to complete their assigned exercises when doing them from the comfort of their own homes compared to in-person.
Book a customised one-hour session with senior students under the supervision of accredited exercise physiologists and exercise scientists, weekdays at 9am, 10am or 11am.
To register your interest, call +61 3 9919 4737 email the VUCER Clinic Officer at [email protected]