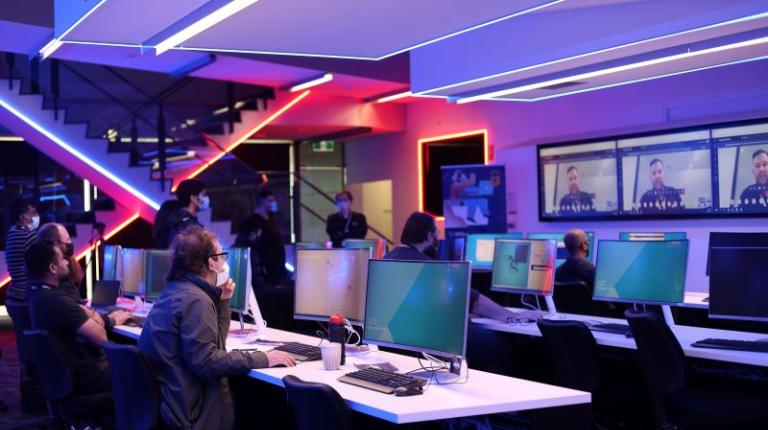 Victoria University Polytechnic's cyber security students proved they are among the country's best "cyber sleuths" during a virtual scavenger hunt contest that tested their skills against teams from across Australia.
The VU Polytechnic team came first in Victoria and second nationally against 10 other teams in the first-ever TAFE-vs-TAFE cyber-security computer challenge.
Aspiring cyber security specialists battled from computers with their opponents on giant wall screens at VU's state-of-the-art Cisco Cyber Security Centre located at VU's St Albans Campus.
Jo Cave, head of cyber and digital transformation at VU Polytechnic, described how competitors worked in teams and individually to capture hidden flags for points by cracking encrypted passwords, uncovering an unusual snippet of code, or finding a suspicious network device.
"The challenge gave students a taste of a real working environment where they'll need to defend systems from attacks. It was not only educational, but also fun."
What makes victory all the sweeter for the VU Polytechnic students is that VU only began offering the 22334VIC – Certificate IV in Cyber Security in 2019 – the course contestants are studying – and enrolments have rocketed since.
A new national body, TAFE Cyber, organised the contest to promote the booming cyber security profession, which has a critical shortage of trained professionals at all levels.
Course part of Free TAFE program
The Certificate IV in Cyber Security is part of the Victorian Government's Free TAFE program. No formal pre-requisites are required for the course, which draws people from a range of backgrounds, ages and life experiences.
Career prospects are extremely bright since Australia requires about 156,000 new technology workers in the near future, according to Deloitte Access Economics.
About 35% of graduates from VU Polytechnic's cyber security course are women – well above industry standard – and they are an important asset for bringing new perspectives in communication, problem-solving, and teamwork, said Ms Cave.
Challenge participant Ximena Riveros worked in the software industry before joining the course.
"I saw this as a way to expand my skills in an area that is growing every day. Anyone interested in the course doesn't need a technical background because you learn as you go," she said.
VU Polytechnic delivered the course fully online last year, and is teaching it in a hybrid model this year. It expects to offer an advanced diploma in cyber security later this year.