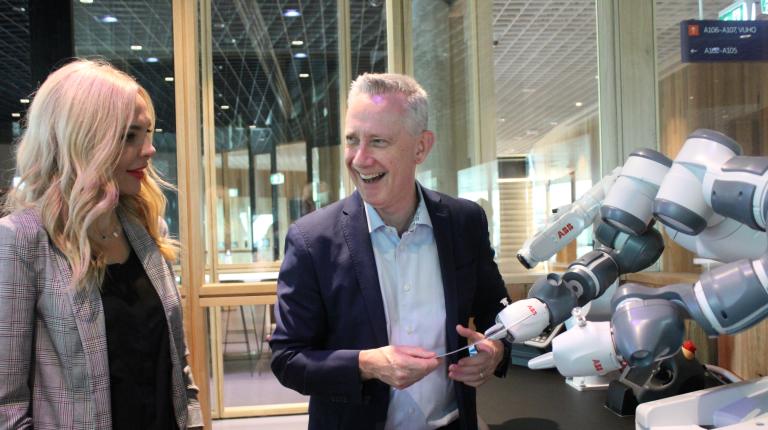 Victoria University's (VU) new Vice-Chancellor, Professor Adam Shoemaker, and Brimbank City Council's Mayor, Cr Ranka Rasic, met at VU's Sunshine Skills Hub for the first time last week since a partnership agreement was signed by the two organisations in June 2020.
The meeting reaffirmed the Memorandum of Understanding's (MoU) priorities to improve access to skills, learning and jobs in Brimbank and Melbourne's west and support Covid recovery across local communities, and acknowledged the momentum already made in the three-year partnership.
Along with touring the Skills Hub, Professor Shoemaker and Mayor Rasic highlighted several initiatives which VU and Brimbank are continuing to engage on including:
2050 Sunshine Priority Strategy: advancing the priorities in the Brimbank's Strategy, including advocacy around an optimal design outcome from Melbourne Airport Rail via a Sunshine Super Hub and revitalised Albion Station corridor. The Sunshine Precinct, with a transport Super Hub, can provide excellent connections to the Melbourne Airport and western regions. It will play a critical role in the future of Brimbank and the western region – growing local jobs for local people.
VU's Sunshine Skills Hub: providing flexible training solutions that focus on developing the skills that for the industries and jobs of the future.
Jobs and Skills: to support advocacy around a Jobs and Skills Taskforce being based in Brimbank, a new Jobs and Skills Institute for VU, as well as new Job Advocates across the Brimbank community to support disadvantaged job seekers.
Aligning skill & learning pathways: ongoing engagement between Council and VU, including between the state-of-the-art Sunshine Skills Hub, VU Polytechnic Skills & Jobs Centre and Brimbank's Learning Futures (BLF) Centre, to support positive economic and employment outcomes for the Brimbank community, provide flexible training solutions, and develop the skills industry demand.
Evidence-based research: collaboration between VU's Mitchell Institute and Council researching 'what works' to prevent and reduce chronic conditions that affect health, wellbeing and prosperity of Brimbank residents through the Growing Brimbank and the Co-creating Community Capability initiatives.
Co-designed programs: Developing pathway programs that are co-designed with young people to understand the factors that contribute to successful participation in VU courses.
These initiatives aim to increase access to jobs, skills and education pathways for a range of communities, including youth, CALD communities, women, Aboriginal and Torres Strait Islanders and economically vulnerable people, particularly in a Covid recovery environment.
VU's impact from Sunshine and St Albans campuses and beyond
"We are incredibly proud of what has been achieved so far in the partnership between Victoria University and Brimbank City Council. Our aspirations for the Brimbank community, and our joint objectives, are only strengthened by our MOU." said VU's Vice-Chancellor, Professor Adam Shoemaker.
"With campuses in Sunshine and St Albans, and a presence at Sunshine Hospital, VU is well positioned to play a pivotal role in the evolution of the Sunshine Priority Precinct through providing access to tertiary education, as well as the learning, skills and translational research programs, that build industry capability and underpin a strong local economy."
"Through our research projects, accessible study options via the Block Model and online short courses, and our state-of-the-art facilities, Victoria University has much to offer the people of Brimbank. Our focus is to continue to providing lifelong learning and impactful employment pathway opportunities for the communities in the west of Melbourne."
Supporting Brimbank's growth and COVID-19 recovery efforts
Brimbank City Council Mayor, Cr Ranka Rasic, also reflected on the benefits of the partnership.
"Council is proud to work in partnership with VU, to help identify and align local learning, skills and employment pathways, which are now more important than ever as part of our COVID-19 Recovery."
"Along with these initiatives, we are also delighted to engage with VU around the potential of the Sunshine Priority Precinct, as well as VU's Sunshine and St Albans Campuses."
"Our collaboration and shared vision to help influence an optimal design outcome around the Melbourne Airport Rail Project is vital in this regard, especially as we seek to integrate a new Albion Station corridor with a new education and innovation precinct known as the SunRISE Quarter".