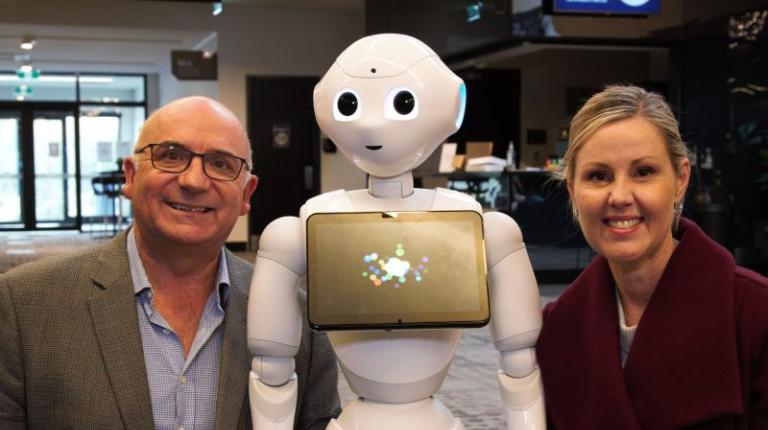 A humanoid robot named Pepper is now greeting COVID vaccine recipients in Wyndham and making them smile before they receive their jab.
The 120-cm-tall robot developed by SoftBank Robotics normally lives at Wyndham Tech School, hosted by Victoria University.
Students from secondary schools across Wyndham learn to code the humanoid robots to interact with people in the health, retail and hospitality sectors.
But starting this week, Pepper is at a new Hoppers Crossing community vaccination hub that Wyndham Council and 40 local GPs teamed up to establish in efforts to boost vaccination rates.
Pepper uses voice and chest tablet to communicate 
A fortuitous meeting between Wyndham Tech School Director Gail Bray and local GP Dr Joe Garra uncovered the idea of using Pepper at the new vaccination hub at the Encore Events Centre.
Pepper is programmed to greet people, ask questions, and provide information about the vaccine – the same information that a medical receptionist would relay – using its voice and a tablet display on its chest.
It's a positive experience for patients and staff because one of the first thing Pepper does is reduce anxiety while people are waiting, said Ms Bray.  
With up to 100 patients turning up for the two-hour sessions, Pepper is also freeing up human staff to spend time with visitors on a more personal level, she said.
"This is a great example of how the Wyndham Tech School and Victoria University Polytechnic collaborate with the community while giving students opportunities to work on real-world projects that will help them when they enter the workforce."
Pepper focuses on basic communication in its current role, but in future, could be programmed to recognise faces or to even speak different community languages, said Ms Bray.
View a short video of Pepper in action at the Wyndham Vaccination Hub.
Prospective students interested in high-tech careers can explore courses at VU Polytechnic and VU in cybersecurity or information technology.