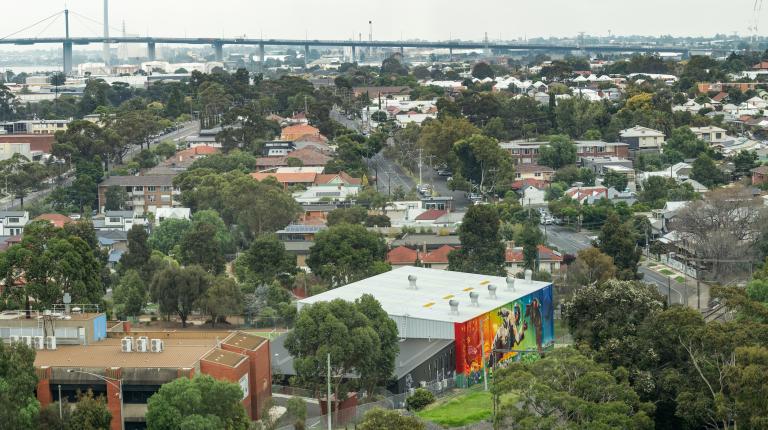 Footscray City Primary School received a fresh lick of paint when students joined renowned artists, Heesco and Chuck Mayfield, to paint a large 40 metre wide by 10 metre high mural on the back wall of the school's gym.
Activating the corridor nestled between the gym and train line for pedestrians and train travellers, the mural, that was co-designed by students and artists, celebrates life-long learning and the benefits of STEAM (science, technology, engineering, art and mathematics) focused education.
"People's art really matters in their own precincts. We are delighted to partner on this project, as it's a wonderful example of the Footscray Learning Precinct in action and the unique opportunities that it provides for the community." - Victoria University Vice-Chancellor, Professor Adam Shoemaker.
The mural features an astronaut in a colourfully decorated suit moving from the past into a bright future. The astronaut is led by Bunjil the eagle, as a welcome and optimistic symbol for our community moving forward. The prominent emblems embedded into the mural reflect the STEAM approach to learning and celebrate the local area.
"I am so pleased to see artists collaborating with school students, helping them gain practical experience and creating works the community can enjoy in the process." - City of Maribyrnong Mayor, Cr Michael Clarke.
The design emerged from a series of weekly workshops with 60 students from Footscray Primary School, Footscray City Primary School and Footscray High School. Through the workshop process the students learnt about street and public art, developed visual concepts about STEAM learning and gained practical experience using stencils, rollers and other street art techniques.
"It has been a privilege to work with professional artists and for the students to have the opportunity to engage in a learning experience that sees them leaving such an incredible legacy for the community in this beautiful and thought-provoking mural."
– Footscray City Primary School principal, Jessie Hand
The project is part of Maribyrnong City Council's StreetWORKS program delivered in partnership with Victoria University, Footscray City Primary School and the Footscray Learning Precinct. The initiative supports and promotes the arts while contributing to the visual amenity of our neighbourhoods and has the added benefit of reducing graffiti and tagging.
Images courtesy of Dennis Murphy Photo.