Welcome─Not welcome! An exhibition by Mohsen Meysami
This event has already taken place.
Thursday 14 June 2018

to

Saturday 30 June 2018
The Welcome─Not welcome! exhibition aims to visualise the suffering of people dealing with the recent wars in the Middle East in an attempt to highlight our indifference towards them.
Artist Mohsen Meysami presents work that draws attention to the destructive impacts of war, asking the question: "Do you even care?"
The artworks are informed by traditional Persian and Islamic arts and crafts as a means to investigate what could be seen as the global indifference towards the plight of refugees.
About the artist
Mohsen Meysami is an Iranian artist who works between Tehran (Iran) and Melbourne (Australia). Meysami is interested in utilising a variety of mediums and techniques to communicate complex political ideas. His artworks range from intricate bead-works on found Persian Kilims to digital illustrations and public art projects. Through his artworks, Meysami explores impacts of recent wars in the Middle East and challenges people's indifference to the suffering of those whose lives have been affected by wars.
He completed a Master of Graphic Design at the Azad Art University Tehran, Iran, and was awarded the Australian Postgraduate Award to undertake a PhD. Currently studying at RMIT University, he is conducting a practice-based research project focused on portraying impacts of war using Persian traditional arts.
Mohsen Meysami's works have been selected as finalist in a number of awards including the Arte Laguna Venice 2018, Wangaratta Contemporary Textile Award, and Incinerator Art Award. In 2017, he won the inaugural Footscray Art Prize 2017 Tertiary Award.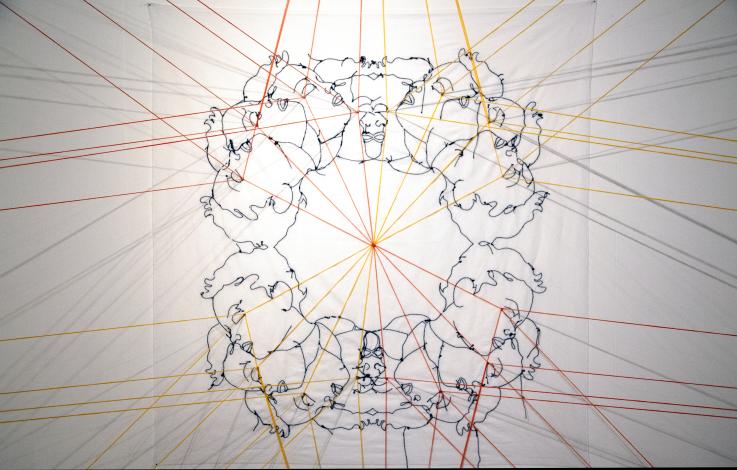 When?
This event has already taken place.
Exhibition: Thursday 14 June – Saturday 30 June
Exhibition opening: Thursday 14 June, 6pm - 8pm
Where?
VU at MetroWest (Footscray) 138 Nicholson Street
Footscray
Australia