Classes in making healthy food choices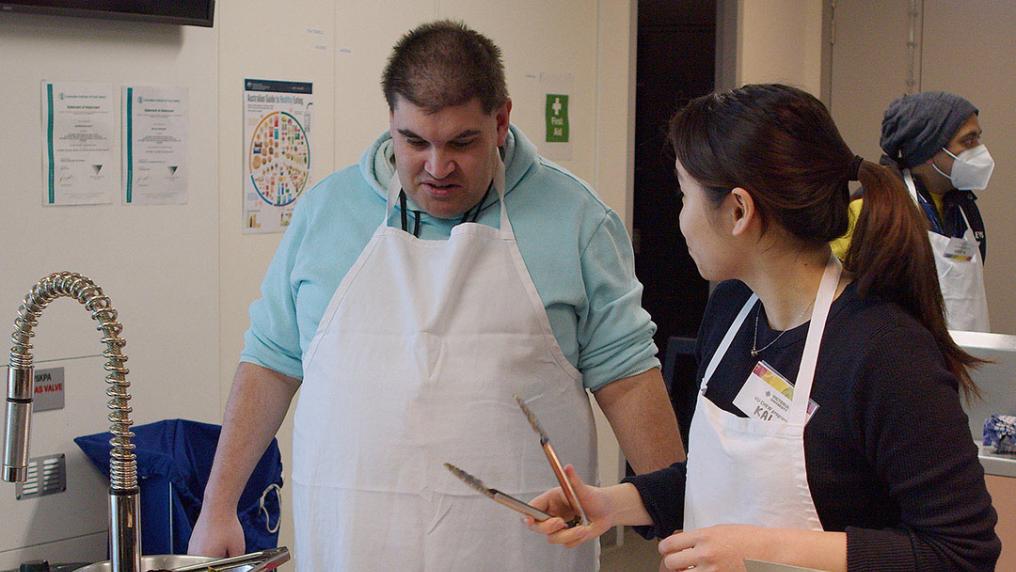 Tuesday 9 May 2023, 9.45am–1.15pm
Tuesday 16 May 2023, 9.45am–1.15pm
Tuesday 23 May 2023, 9.45am–1.15pm
Tuesday 29 August 2023, 9.45am–1.15pm
Tuesday 5 September 2023, 9.45am–1.15pm
Tuesday 12 September 2023, 9.45am–1.15pm
Tuesday 19 September 2023, 9.45am–1.15pm
Come and learn how to keep healthy and cook tasty, healthy meals in a fun, supportive environment.
The VU Cooking and Healthy Eating Well (CHEW) program offers interactive workshops to help you build your knowledge, skills, and confidence in making healthy food choices.
About the VU CHEW program
Structured around the Australian Dietary Guidelines, the content of ourfour-week program is tailored to the needs of individual groups.
Each session begins with an interactive education workshop, followed by a cooking session related to topic of the day, and a group meal where everyone can enjoy the food they have prepared.
The VU CHEW program partners with 'local community services in the West of Melbourne and beyond. A key aim of the VU CHEW program is to address health equality in disadvantaged groups.
The program is facilitated by final year VU undergraduate nutrition students supervisors by VU staff who are dietitians/nutritionists.
Typically the program has up to 15 participants (ideally more than 10), 1-3 support workers (as needed), 3-5 students, and 2 VU staff.
Sample menu
Three dishes are cooked in each session. It is safe to say that you won't go hungry!
Some of the things we have cooked in the past include pita pizza, bean burritos, and fruit crumble.
Times & dates
In 2023, the CHEW program will run 2 four-week programs, on the following Tuesdays, starting at 9:45am:
Program 1: 2 May,  9 May, 16 May, 23 May
Program 2: 29 August, 5 September, 12 September, 19 September.
Cost
$20 per person for each 4-week program (4 sessions at $5 each session).
What happens on a day?
Each session will take approximately 4 hours.
9:45am: arrival
10am: set up, COVID check-in/screening.
10.15am: overview of nutrition topic and activities
11.30am: kitchen session and eating
1.15pm: session recap and wrap up.
We expect to be finished and ready to leave by 2pm. Please note, the start and end time are flexible.
Browse Nutrition courses at VU.