VU is partnering with Universities Australia to ensure that students and staff are safe from sexual violence.
We have zero tolerance to sexual assault and harassment. One incident of sexual violence is one too many.
We are dedicated to preventing and responding to sexual assault and harassment.
National student survey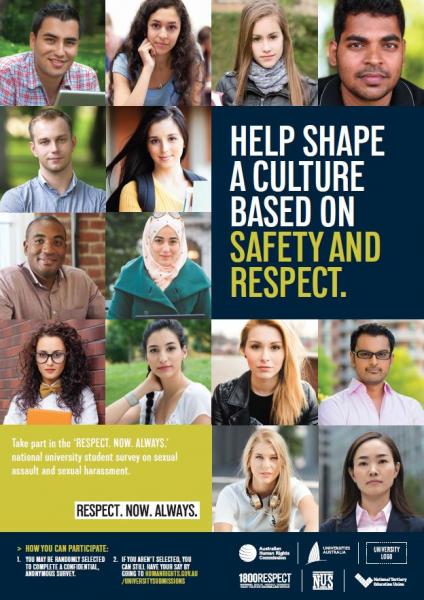 In late 2016, Universities Australia and the Australian Human Rights Commission launched Australia's first ever national prevalence survey on university student experiences of sexual assault and sexual harassment.
Victoria University will release our University's results on 1 August 2017, coinciding with the release of the National Report by the Australian Human Rights Commission.
Find out more
Read our FAQs, or visit Universities Australia for more information.
About the campaign
VU joined the "Respect. Now. Always." campaign initiated by Universities Australia. Universities Australia rolled out "Respect. Now. Always." as part of a wider initiative across Australia to improve awareness and support for victims of sexual assault.
The campaign raises the awareness of sexual assault and harassment on Australian university campuses. By raising the awareness of this important issue, the campaign aims to empower those who have experienced sexual assault or harassment to seek the help and support they need.
The campaign provides an opportunity for the university sector to review policies, reporting procedures, and support services for victim survivors of sexual assault.
Respect. Now. Always. at VU

"Respect. Now. Always." at VU (a Safer Community initiative) was launched on Monday 2 May 2016. The launch aimed to raise awareness of and discuss VU's approach to the prevention and response to sexual assault, with speeches from the Vice-Chancellor Professor Peter Dawkins and Chief Operating Officer Jonathan Tribe.
Victoria University established Safer Community at the beginning of 2016 as a central point of enquiry, response and support for concerning, threatening or inappropriate behaviour, including sexual assault and harassment. The "Respect.Now.Always" campaign at VU is part of our commitment to providing a safe and inclusive learning and working environment for all students, staff, and visitors at our campuses.