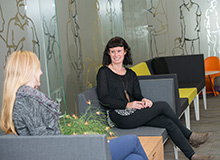 The Victoria University Psychology Clinic was established in 1993. It reflects the commitment of Victoria University to western Melbourne by providing discounted psychological services to the community.
The Clinic operates as part of the professional training for postgraduate psychology students at the University. Assessment and treatment is provided by provisional psychologists who are supervised by experienced Clinical Psychologists.
Services provided
Psychologists equip people with the skills needed to function better and to prevent problems such as work stress, relationship troubles and coping with illness from seriously affecting your life.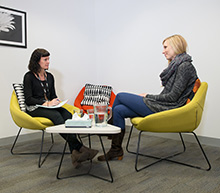 The Clinic specialises in cognitive-behavioural therapy and psychodynamic therapy. We provide assessment and treatment of:
depression
anxiety
child behaviour problems
learning difficulties
family difficulties
difficult life events.
Individual and group treatments are available.
If you are unsure whether we can help you with your problem do not hesitate to contact us. We will also provide information and referral for other services, if appropriate.
Please note:
The VU Psychology Clinic is a service for the general public.
The Clinic does not provide medical treatment or a crisis intervention service. We do not provide a 24 hour service. If you are looking for immediate assistance, you should call LifeLine on 13 11 14.
We do not provide assessments or reports for legal, Transport Accident Commission (TAC), or Workers Compensation proceedings.
If you are a VU student, you also have access to counselling through the Student Counselling Service.
Group programs
The Clinic specialises in the delivery of education and therapy groups with a wellbeing focus.
Our groups are for members of the community to explore and improve skills in particular areas. They are facilitated by two of our provisional psychologists and you will have an individual meeting with someone before the group starts, to ask any questions and ensure the group is right for you.
Each group is usually run once per semester, with the start date arranged once enough spots are filled.
Social skills group for children
The Clinic has been providing social skills groups for a decade and we use the latest evidence base. We use a combination of cognitive-behavioural, relational, and mindfulness approaches. The groups are for children with challenging behaviours or autism spectrum disorder diagnosis and their parents (separate children and parent groups which run at the same time). The groups are for children aged 5 to 14 years.
Mother-baby group
We run six-week mother-baby groups for mums who are experiencing parenting stress and/or are interested in further developing their relationship with their baby. Being a happy and effective parent involves a developing relationship with a person you only just recently met. We use relational strategies and small group sizes (3-5 women) to help explore and gain confidence in this area.
Mindfulness group
For those who are experiencing stress or are interested in increasing their wellbeing, we run six- or eight-week mindfulness education programs. These are groups where you will learn and experiment with a variety of mindfulness techniques.
Calm living group
This group may help you if you have difficulties dealing with anxiety in your day-to-day life. You don't require a diagnosis of an anxiety disorder to attend the group; however we will provide you with a full diagnostic assessment if you choose to attend, which may help you with further options. This eight-week group follows a resilience-focussed, cognitive-behavioural model of addressing life without anxiety.
Register
Register your interest in one of our group programs
Referrals
The Clinic provides services to people of all ages from any location. Referrals can be made by local agencies, doctors, health professionals or teachers. Alternatively, you may ring the Clinic directly and refer yourself or a family member. Treatment is only provided by appointment.
Once a referral is accepted, a clinic worker will contact you to arrange a first appointment at the most convenient location. Appointments can be scheduled after normal business hours if required.
For all referrals please contact the VU Psychology Clinic Office or complete our referral form.
Clinic location
The Psychology Clinic is located at VU at MetroWest in Footscray. Access to the clinic is via 47 Paisley Street Footscray.
Fees & pricing
We are a low-cost service.
Fees for individual therapy and group programs are on a sliding scale based on family income.
The Clinic charges organisations a fee for services based on an agreed fee scale. Learning assessments attract a flat fee.
Opening hours
Monday: 10am – 6pm
Tuesday: 10am – 6pm
Wednesday: 9am – 5pm
Thursday: 9am – 5pm
Friday: 9am – 12pm
VU Psychology Clinic Communications Policy
Our communications policy outlines how we may communicate with our clients. This includes telephone contact, text messaging, and all forms of social media (Facebook, Twitter, Snapchat, etc.). Please read it to understand how we conduct ourselves as mental health professionals and how you can expect your therapist to respond to various interactions between you.
Concerns
As new technology develops and the internet changes, there may be times when we need to update the policy. If that happens, we will publish a new policy and provide it to you. If you have any questions about anything within this Policy, please bring them up with your therapist when you meet them next. If your concerns are not resolved to your satisfaction, you can get in touch with the Clinic Director through the Clinic Administrative Officer on +61 3 9919 2353.
Out-of-session communication
Communicating outside of sessions, especially via easy-to-reach technology, can blur the boundaries of the therapeutic relationship. We therefore discourage external communication that is not about administrative arrangements such as appointment making. Your sessions are an open space for you to discuss anything you wish with your therapist and you should use them as such.
Phone & SMS communication
Our Clinic is staffed by part-time students with external commitments – for example, they are also required to work as therapists at other organisations during their training. This means that they cannot be available full-time and we cannot provide a crisis service. If you require immediate assistance, we always recommend that you use the 24-hour services of Lifeline on 13 11 14 or their crisis support chat line (7pm-4am)
For normal business, we use our Clinic answering machine +61 3 9919 2353 on a routine basis. If you leave a message, please indicate the name of the therapist you are seeing (we have up to 20 therapists working in our Clinic). We aim to respond to messages within one business day of your call. We're happy for you to leave a detailed message. You can be sure that we will respect your privacy and only Clinic staff who work under our Confidentiality and Privacy Policy will access these messages.
Unfortunately, we don't have the capacity to offer text messaging facilities. You will need to phone the Clinic and speak to our Administrative Officer or leave a message if you want us to get in touch with you.
Email communication
Occasionally there may be a reason you need to provide some document or information via email. This can be done via the Clinic email address: vupc@vu.edu.au. Please note that this email address is checked by the Clinic Director only (and not on a regular basis). Your therapist needs to tell the Director to look for an email. It is therefore not useful as a routine form of communication.
Be aware that all emails are retained in the logs of both yours and the University's Internet Service Providers (ISPs). While it is unlikely that someone will be looking at these logs, in theory, they are available to be read by the system administrator of both ISPs. You should also know that any emails received from you and any responses to you become a part of your legal record.
Social media communication
The Clinic does not maintain a social media presence, and we require our Clinic staff to maintain 'private' social media accounts which do not include professional contacts. Adding clients as friends or contacts on any social media sites can compromise the confidentiality of the client – as you could see information about other clients – and so it is not an approved practise under the Australian Psychological Society Code of Conduct.
Our Clinic page contains basic information about our service, including an online referral form which anyone can use.
VU's Facebook page has interesting information about all aspects of our University Town, but mostly does not include information about the Psychology Clinic.
The Australian Psychological Society's Code of Conduct prohibits psychologists from soliciting testimonials from clients and therefore we ask that clients do not comment on our work online.
Online information in therapy
Our primary concern is your privacy. If there are things from your online life that you wish to share with your therapist, please bring them into your sessions where you can view and explore them together on your media, during the therapy hour.
Your therapist may ask you to use an online app, such as one that allows you to record your emotions and thoughts during the day. Or they may recommend a useful app for your child to engage with for outside-of-session work. Your therapist will not monitor this usage online. You will be expected to bring any useful reporting from these apps to your session to share. The material in them remains your own, and it is your decision as to what information you wish to share with your therapist.
It is preferable that you ask your therapist first before showing any material that might be offensive, such as explicit material. It may be that you can simply describe this material rather than showing it to your therapist.
Reviews
None of this is meant to keep you from sharing that you are in therapy at the Psychology Clinic wherever and with whomever you like. Confidentiality means that your therapist cannot tell people that you are a Clinic client and the APS Code of Conduct prohibits us from requesting testimonials. But you are more than welcome to tell anyone you wish about your therapist or how you feel about the treatment provided, in any forum of your choosing. If you do choose to write something online, keep in mind that you may be sharing personally revealing information in a public forum.
Location-based services (LBS)
If you used location-based services on your mobile device, you may wish to be aware of the privacy issues related to use of these services. The Psychology Clinic is not a check-in location on sites such as Foursquare, Gowalla, Loopt, etc. However, if you have GPS tracking enabled on your device, it is possible that others may surmise that you are a therapy client due to regular check-ins at this location on a weekly basis. Please be aware of this risk if you are intentionally "checking in", or if you have a passive LBS app enabled on your phone.
Contact us
Victoria University Psychology Clinic Office
VU at MetroWest
Enter via 47 Paisley Street
Footscray VIC
Phone: +61 3 9919 2353
Email: vupc@vu.edu.au
Practice Manager: Dianne Niemczyk
Email: vupc@vu.edu.au
Clinic Director: Dr Carolyn Deans
Email: carolyn.deans@vu.edu.au
Clinic Director: Dr Alexia Pavlis
Email: alexia.pavlis@vu.edu.au
Placements Coordinators:
Clinical: Ms Rebecca Youl
Email: rebecca.youl@vu.edu.au
Community: Ms Sue Oliver
Email: sue.oliver@vu.edu.au