Appointments during coronavirus restrictions
The Victoria University Psychology Clinic was established in 1993. It reflects the commitment of Victoria University to western Melbourne by providing discounted psychological services to the community.
The Clinic operates as part of the professional training for postgraduate psychology students at the University. Assessment and treatment is provided by provisional psychologists who are supervised by experienced Clinical Psychologists.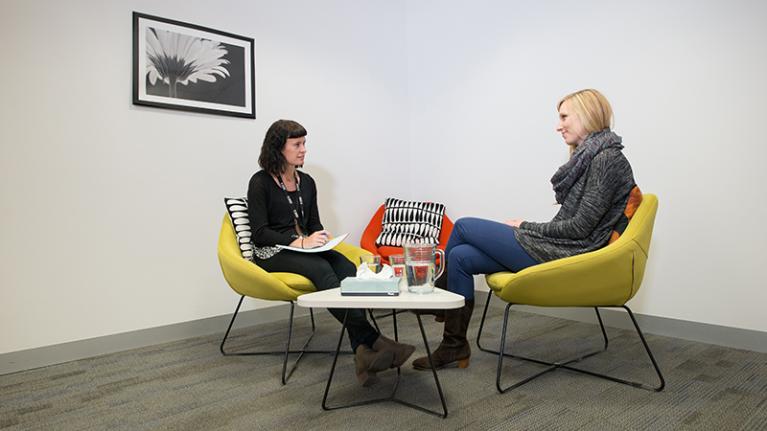 Services provided
Psychologists equip people with the skills needed to function better and to prevent problems such as work stress, relationship troubles and coping with illness from seriously affecting your life.
The Clinic specialises in cognitive-behavioural therapy and psychodynamic therapy. We provide assessment and treatment of:
depression
anxiety
child behaviour problems
learning difficulties
family difficulties
difficult life events.
Individual and group treatments are available.
If you are unsure whether we can help you with your problem do not hesitate to contact us. We will also provide information and referral for other services, if appropriate.
Please note:
The VU Psychology Clinic is a service for the general public.
The Clinic does not provide medical treatment or a crisis intervention service. We do not provide a 24 hour service. If you are looking for immediate assistance, you should call LifeLine on 13 11 14.
We do not provide assessments or reports for legal, Transport Accident Commission (TAC), or Workers Compensation proceedings.
If you are a VU student, you also have access to counselling through the Student Counselling Service.
Group programs
Groups sessions are not currently running, due to the need for social distancing caused by the coronavirus (COVID-19) pandemic.
When restrictions are relaxed, the Clinic specialises in the delivery of education and therapy groups with a wellbeing focus.
Our groups are for members of the community to explore and improve skills in particular areas. They are facilitated by two of our provisional psychologists and you will have an individual meeting with someone before the group starts, to ask any questions and ensure the group is right for you.
Each group is usually run once per semester, with the start date arranged once enough spots are filled.
Social skills group for children
The Clinic has been providing social skills groups for a decade and we use the latest evidence base. We use a combination of cognitive-behavioural, relational, and mindfulness approaches. The groups are for children with challenging behaviours or autism spectrum disorder diagnosis and their parents (separate children and parent groups which run at the same time). The groups are for children aged 5 to 14 years.
Mother-baby group
We run six-week mother-baby groups for mums who are experiencing parenting stress and/or are interested in further developing their relationship with their baby. Being a happy and effective parent involves a developing relationship with a person you only just recently met. We use relational strategies and small group sizes (3-5 women) to help explore and gain confidence in this area.
Mindfulness group
For those who are experiencing stress or are interested in increasing their wellbeing, we run six- or eight-week mindfulness education programs. These are groups where you will learn and experiment with a variety of mindfulness techniques.
Insomnia group
In this intensive four-week course, you will receive 30 minutes of a group session run by an experienced sleep psychologist, followed by an hour long individual session with a provisional psychologist. The individual sessions will focus on assessing the nature of the sleep problems and needs, reinforcing the messages and techniques encountered in the group session, as well as tailoring the therapy to your individual situation. The therapy will consist of the standard program of Cognitive Behavioural Therapy for Insomnia (CBT-I) - a well-established therapy with high success rates.
Register
Referrals
The Clinic provides services to people of all ages from any location. Referrals can be made by local agencies, doctors, health professionals or teachers. Alternatively, you may ring the Clinic directly and refer yourself or a family member. Treatment is only provided by appointment.
Once a referral is accepted, a clinic worker will contact you to arrange a first appointment at the most convenient location. Appointments can be scheduled after normal business hours if required.
For all referrals please contact the VU Psychology Clinic Office or complete our referral form.
Privacy & consent
You will be asked to provide written consent to the service at the Victoria University Psychology Clinic. This consent includes the use of audio/visual recording of your assessment and/or therapy sessions for training purposes.
Consent will be explained to you and is completely voluntary; however, we may not be able to provide a full service to you if consent is not given. Your Clinician and/or the Clinic Director will be happy to discuss any questions you have regarding privacy and consent.
Clinic location
The Psychology Clinic is located at VU at MetroWest in Footscray. Access to the clinic is via 47 Paisley Street Footscray.
Fees & pricing
We are a low-cost service.
Fees for individual therapy and group programs are on a sliding scale based on family income.
The Clinic charges organisations a fee for services based on an agreed fee scale. Learning assessments attract a flat fee.
Opening hours
Monday: 9am–6pm
Tuesday: 9am–6pm
Wednesday: 9am–6pm
Thursday: 9am–6pm
Friday: 9am–5pm