Temporary closure sport facilities & programs
Learn to Swim programs for infants, children and adults are taught at the Footscray Park Aquatic & Fitness Centre Swim School.
Our experienced, qualified teachers conduct all classes.
We keep our classes small to provide the best opportunity for learning.
Download swim school information:
Swim school membership
Your membership includes:
access to a wide range of classes taught by experienced instructors
make-up classes
free access to the pool outside of lesson times.
Costs
All costs listed are in Australian dollars and are per class.
Class
Full fee
Concession/VU student or staff discount
Infant and children
$19.80
$18.25
Senior swim and survive
$22.75
$21.50
Adult beginner
$28.70
$28.70
VU students can apply for free swimming and water safety lessons
Adult intermediate
$28.70
$28.70
Adult private lessons
$82 per hour
$82 per hour
Monthly direct debit
Payments will be deducted on the first business day of each month from your chosen bank account. The amount debited will be the sum of the total number of lessons in the month.
You will not be charged for:
lessons that fall on a public holiday
the school holiday period, but you are welcome to attend the pool during this time.
Once you have enrolled your booking will be ongoing until you:
are ready to move up a level
decide to change the day for the lesson
cancel your membership.
Cancellations
To cancel your membership please complete a cancellation form and return it to us 5 working days prior to the end of the month to stop the next month's direct debit.
Please speak to our friendly reception staff to request a cancellation form.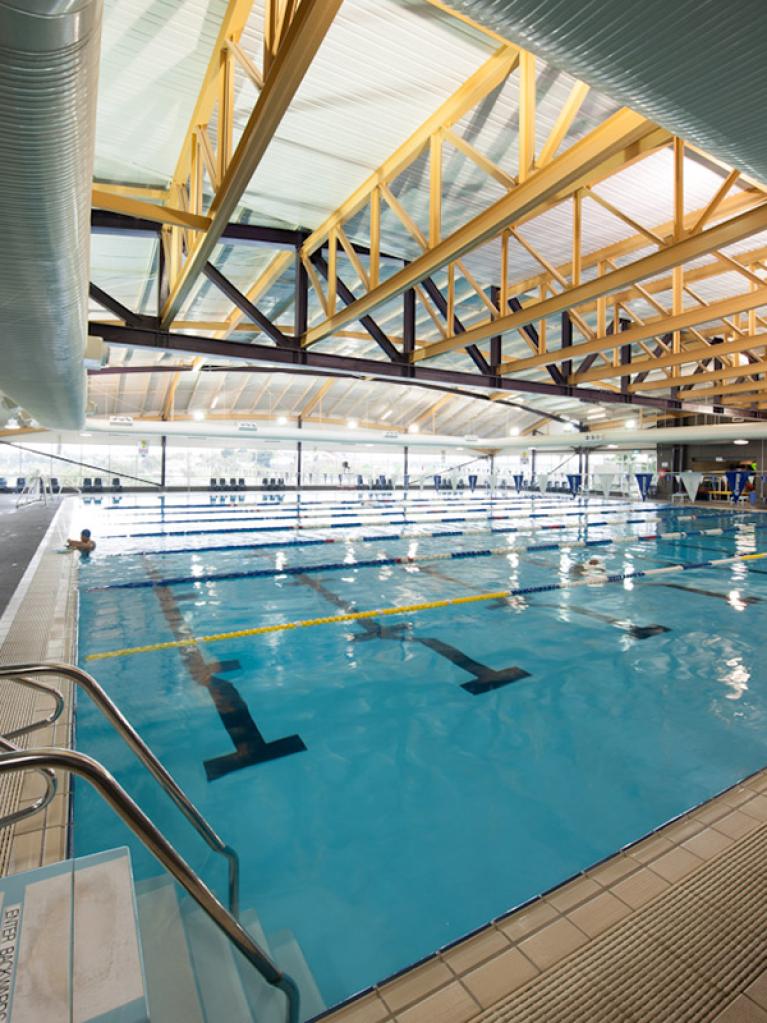 Learn to swim in our 25-metre heated swimming pool.
Make a Swim School booking
New student enrolments
Please visit the VU Aquatic and Fitness Centre Reception, Building L, level 0 of the Footscray Park Campus to make a booking today.
Pool opening hours
Monday–Thursday, 6am–9pm
Friday, 6am–8pm
Weekends, 9am–3pm
Phone: +61 3 9919 4460
Email: [email protected]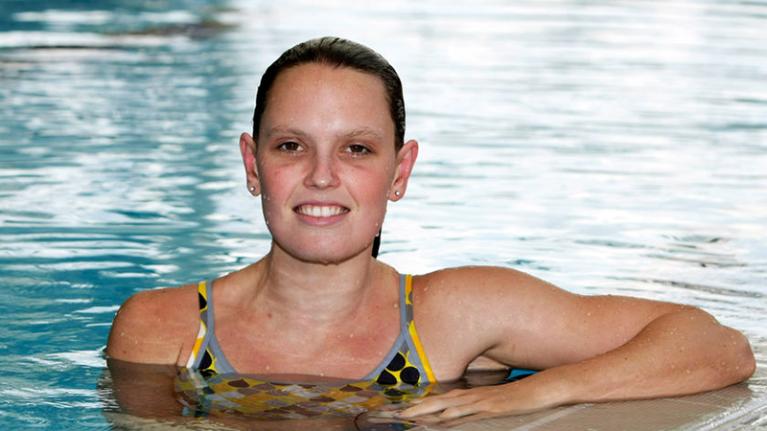 Enjoy free access to the pool outside of lesson times.
Swim school term dates 2020
Term 1
Tuesday 28 January – Monday 23 March
Public holidays in term 1 2020
Lessons will not run on public holidays.
Wednesday 1 January (New Year's Day)
Monday 27 January (Australia Day)
Friday 10 April (Good Friday)
Sunday 12 April (Easter Sunday)
Monday 13 April (Easter Monday)
Monday 27 April (ANZAC Day)
Monday 8 June (Queen's birthday)
Friday 25 September (Friday before AFL Grand Final)
Tuesday 3 November (Melbourne Cup)
Friday 25 December (Christmas Day)
Monday 28 December (Boxing Day)
Children's swim school
Children's swim classes are held seven days a week.
Infant classes
Water familiarisation classes for infants are a great way to introduce your child to water through fun and games.
You (a parent or guardian) must accompany your child in the water for the duration of the class.
Children's Learn to Swim program
See the Swim School timetable and member information above.
Intensive swimming program
During the school holidays we have an intensive swimming program. Each child takes part in a 30-minute class daily Monday to Friday. Continual learning is extremely beneficial to help your child to build and progress skills quickly.
The January holiday program runs Monday 20 January – Friday 24 January 2020. Classes run between 4pm and 7pm. Please contact [email protected] for further information.
Cost: $113.50
Book via email or phone
Phone: +61 9919 4460
Email: [email protected]
School holiday sports program
Looking for some school holiday fun? Encourage your kids to get active at our school holiday sports programs.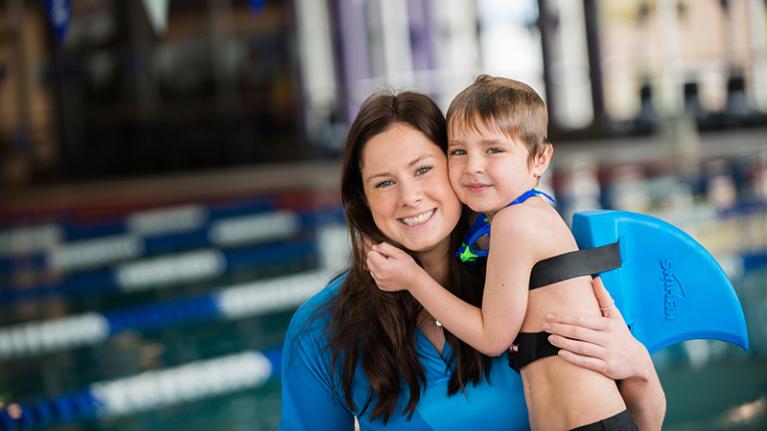 Our qualified teachers will help your children learn to swim and feel safe in the water.
Adult learn to swim
We offer beginner, intermediate and intensive swimming lessons for adults.
Beginners
We are proud to provide Learn to Swim programs for Victoria University students.
Classes will be $5 per session for the first 40 Victoria University students who apply, thanks to SSAF funding.
You will receive 45-minute swim classes at the Footscray Park Aquatic Centre to learn how to be confident in water. You'll learn the basics, including water safety, stroke techniques, and survival skills. Classes are designed for beginners with little or no water experience.
Lessons in 2020 are offered:
Monday 6.30–7.15pm
Wednesday 7.15–8pm
Thursday 6.30–7.15am
Saturday 12.15–1pm
Sunday 12.15–1pm
Choose one lesson time for the term. Free access to the pool outside of lesson times is included in the Swim School membership.
Enrol today by email: [email protected]
Intermediate adult class
The intermediate class is designed for adults with some swimming experience who want to focus on stroke technique and stamina.
Lesson times in 2020
Monday, 7.15–8pm
Thursday, 6.30–7.15pm
We also offer private lessons for beginners and stroke correction.
We offer a range of swimming lessons to suit you.
Inflatable obstacle course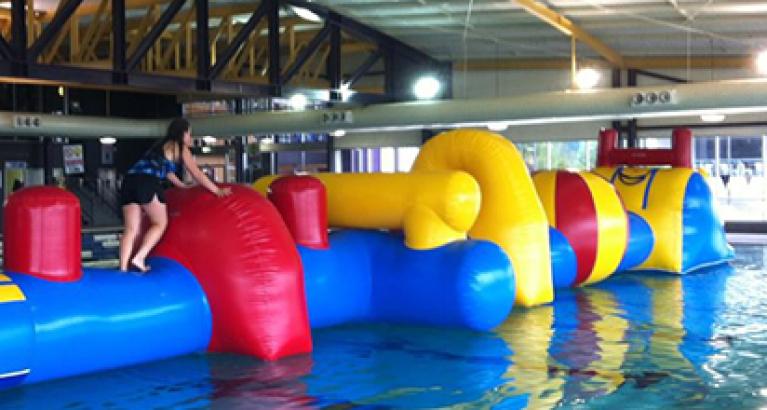 18m inflatable obstacle course for hire