Our Women in Science & Engineering program supports current female students, as well as inspiring future generations of women to choose engineering & science careers.
We run hands-on workshops in science, technology, engineering & mathematics (STEM) disciplines for secondary school students.

Initiatives & objectives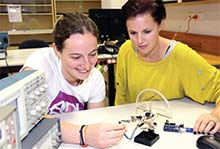 WISE organises regular activities to welcome and support female students such as seminars and workshops featuring female engineers, scientists and IT professionals from industry.
We also seek to increase the profile of female engineers, academics, undergraduate and postgraduate students by showcasing success stories online and on College notice boards.
WISE activities include:
regular meetings with current female and male students to encourage engineering students to be mentors for their peers and role models for potential female students in secondary schools
participation in events such as Engineers Australia's Engineering Week to encourage greater participation of women in engineering and science
a forum with female scientist Dr Shu-Yen Lee from Davies Collison Cave featuring an inspirational talk on "From Scientists to Patent Attorney - How training in Science can lead to alternative careers"
a presentation by WISE coordinator, Associate Professor Juan Shi, at VU Women's Collective: Women in Science and Engineering Careers Forum in 2015 along with Truc Nguyen, the current Chair of the Engineers Australia Women in Engineering (WiE) Victorian Branch and Process Engineer at Hexion Pty Ltd
raising the profile of female engineers, academics, undergraduate and postgraduate students by showcasing success stories online and on College noticeboards.

collaborations with industry and professional organisations to encourage female students to engage in professional, career-building activities:

IEEE (the Institute of Electrical and Electronics Engineers)
Three WISE seminars in semester 1 2016 include talks by:
Vivian Chi - IT Industry Professional on Thursday 5 May 2016
Female scientist seminar Thursday 12 May 2016
Regina Moran from Beca (a former VU civil engineering student) in August 2016.
Success stories

Emma Buis, Engineering graduate
Read how Engineering graduate Emma found herself back at VU as lead site engineer on the University's new student accommodation.
Sarah Oleksiuk, Project Management graduate
Sarah Oleksiuk's determination to become a successful project manager has won her awards and admiration.
Ghofran Al-nasiri, PhD research scientist
Ghofran Al-nasiri, a refugee from Iraq, was given a chance to achieve her dreams of becoming a science researcher through VU's pathways program.
Mary Cowling, Master of Science graduate
Mary took her interest in the environment to New Zealand to study fur seals for the research project in her masters degree. Her goal is to become a marine scientist.
Pooja Haria, Bachelor of Engineering (Honours) (Mechanical Engineering) student
Pooja encourages young women to pursue STEM careers. She travelled to Australia from her homeland of Kenya to study mechanical engineering and is the only female in her class.
Contact us