Postgraduate research applications open
Apply for postgraduate research (doctorates and masters by research) in Education and lifelong learning!
Research areas include:
Early Childhood and Primary
Secondary
Youth, Ongoing and Community Education.
The College of Education specialises in educating people from diverse backgrounds who:
are interested in becoming an early childhood educator, a primary or secondary school teacher, a youth worker or instructor of English as an additional language
are first-time students
have a qualification, but have never taught
would like to pursue vocational and work-based education.
We support our students through the learning journey – whether they are a first-time students, are making a new life in our community, are an experienced worker or a career changer.
We offer flexible pathways as well as partnerships and programs that have an emphasis on workplace and community placement. This prepares our graduates for employment opportunities with communities in and beyond the west of Melbourne.
Conferences & events
 Diamond Series: Education conversations in the community
Website: 2016 Diamond Series: Education conversations in the community.
This seminar series provides students, teachers and the wider community the opportunity to learn about the latest topics and research in education. This year, in acknowledgement of Victoria University's centenary celebrations, we are focussing several of these sessions on our alumni community.  
Host:
The Diamond Series is hosted by
The College of Education
.

When:
The seminars run monthly throughout the year.
Public lecture: Composing Lives in Transition – Learning from narrative inquiries
Discipline guide
For an overview of our courses, research strengths and facilities, download the Education Discipline Guide.
Student placements & internships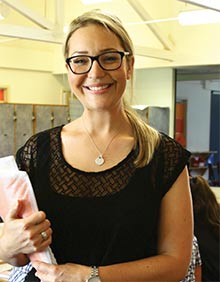 If your dream career is to create a better world through education, we can help you achieve it.
One of our greatest strengths as a university is our links with industry. We are one of the most industry connected universities in Australia with over 4,000 industry connections university-wide.
Our partners include local, national and international organisations, ranging from primary schools, secondary schools, childcare centres, kindergartens, registered training organisations to libraries, zoos, museums and community organisations.
In particular, we are a partner in the National Exceptional Teachers' in Disadvantaged Schools (NETDS) in collaboration with QUT and Partner schools. We also partner with schools in the Northern suburbs and Point Cook for a groundbreaking site-based pre-service teacher education program.
We have international placements in China, Malaysia, Timor Leste, Indonesia and India.
'In second year of my Bachelor of Education degree at Victoria University, I undertook a work placement at Carranballac P-9 College in Point Cook and was offered a full-time position upon graduation.'

Janitta Loughlin - Secondary School Teacher

Bachelor of Education
Accreditations
Our education courses are accredited by:
Australian Children's Education and Care Quality Authority
Australian Institute of Teaching and School Leadership (AITSL)
Victorian Institute of Teaching
Tertiary Education Quality Standards Agency (TEQSA).
Experts
Our staff are experienced practitioners and researchers who are dedicated to best practice and to community outreach and engagement.
We are leaders in the Teaching Academies for Professional Practice (TAPPS) initiative of the State Department of Education and have continued to be successful in obtaining national office of learning and teaching grants and awards.
View an image gallery from our College
Contact us
See our College staff page for a list of all College of Education staff, including course coordinators, teaching, research and academic staff.
Footscray Park Campus
Building M, Student Service Centre
Phone: +61 3 9919 6100

St Albans Campus
Building 4, Student Service Centre
Phone: +61 3 9919 6100