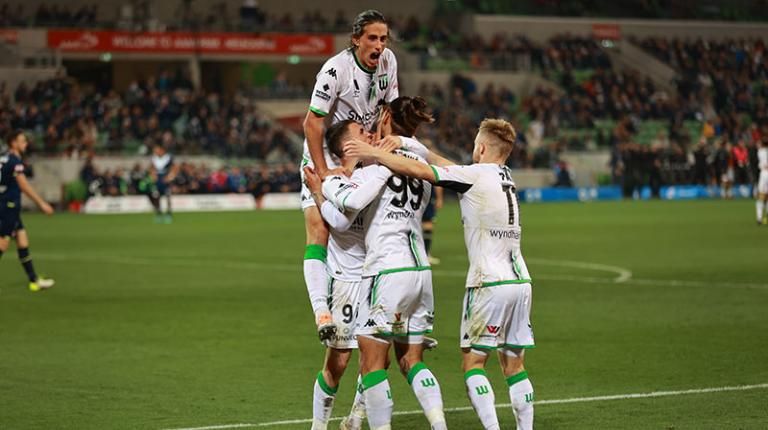 A remarkable finals run has continued with Western United FC booking a spot in its first ever A-League Men's Grand Final, after an exciting 2-4 aggregate win against crosstown rival Melbourne Victory.
After only one win in the last 4 matches, including a nail biting 2-1 loss to Adelaide in the last round, Western United, who were second on the ladder for most of the season, dropped out of the top two. Their finals campaign was do-or-die from the first week, with an elimination final against Wellington Phoenix.
After a close win in week one against Wellington Phoenix, Western United had a challenge against Melbourne Victory, in a two match semi-final series at AAMI Park. While Victory had rested for the week, Western United were about to play three finals in seven days, with many doubting that they would be able to get the win against seasoned finals veterans Victory.
Current VU Student and Western United stand-in Captain Josh Risdon has shown his strength and determination as a key player in the Semi-Final matches, after his recent return from injury.
The first match of the semi-final saw Victory come out 1-0 over Western United, leading into the second match of the semi-final Saturday night. Many doubted that Western United would even up the score to 1-1 in the first half. When the half-time whistle blew, they were down 2-1 aggregate.
It was a fast-paced first-half with both teams holding up strong defences to the pressure of fast counter attacks, before Connor Pain and Aleksandar Prijovic landed a goal inside the first 20 minutes. Victory weren't going to lose control of the match that quickly and equalised with a free kick by Jake Brimmer before half-time, bringing it to 2-1 aggregate.
Prijovic evened out the score to 2-2 aggregate, kicking another goal within a few minutes of the second half commencing. The match continued, with the defence for both side proving too difficult to break through, until the last 15 minutes where Western United made their impact.
Another goal by Lachie Wales gave Western United the lead with a 2-3 aggregate, with 12 minutes to go. What eventuated was a chaotic final 10 minutes for Victory, to bring the final back to a tie, after a number of shots at goal narrowingly missed.
Victory made one last effort in the final minute of the match, with Dylan Wenzal-Halls making use of a break, cementing Western United as the winners with a final 2-4 aggregate score.
2022 ISUZU UTE A-League Grand Final
The details for the Grand Final are as follows:
Melbourne City vs Western United
Saturday 28 May
AAMI Park
Start time 7:45pm (AEST).