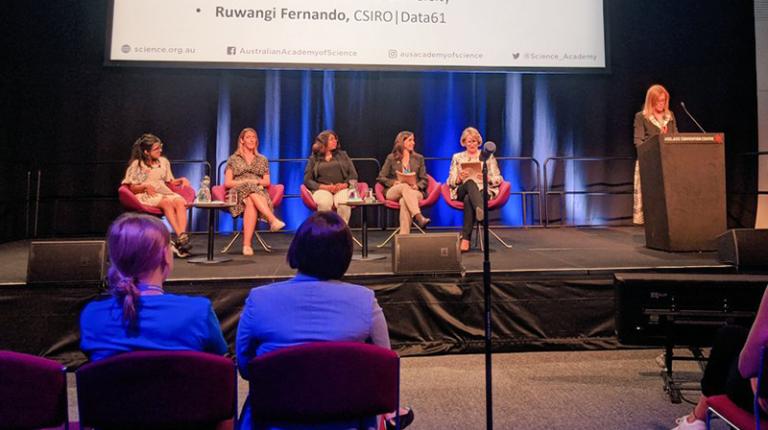 Two Victoria University PhD candidates have been named as part of Australia's inaugural 12-member STEM Women Changemakers team by the Australian Academy of Science (AAS).
Jerusha Mather and Ruwangi Fernando were selected for their outstanding leadership in encouraging other women to be involved in STEM (science, technology, engineering and mathematics) activities, research, and professions.
Both were also featured on a panel discussion at the AAS's Catalysing Gender Equity 2020 conference in Adelaide last week, which highlighted the organisation's Women in STEM Decadal Plan.
Jerusha, who lives with cerebral palsy and aims to become a medical doctor, has lobbied for years to make science and medical training more inclusive to those with a disability. Her research focuses on exploring possible connections between strength training and transcranial direct stimulation to improve the motor movements of adults with spastic cerebral palsy.
"I never imagined becoming a neuroscientist and PhD student. I struggled with chemistry during high school and doubted my successes in the sciences. Now I am proving this notion wrong.
"I'm glad I can catalyse change for my generation and the generations to come, and look forward to using this platform as a driver of powerful change and force."
Ruwangi established STEM Sisters in 2017 to attract, support, and celebrate women of colour in STEM, especially international students and recent migrants.
Her research focuses on how computer algorithms can predict and plan for traffic disruptions caused by major events, such as football games or concerts.
In 2019, Ruwangi won a full scholarship from Data 61, a research arm of the CSIRO, and was named as a finalist in the Victorian International Education Awards. 
"It's a great honour to be recognised for my contributions to diversity through STEM Sisters, and a confidence-booster to be chosen as one of Australia's STEM Women Changemakers. 
"As a panellist, I was able to promote STEM Sisters on a national level and advance my plans to expand this organisation to other states in Australia."