VU students compete in national Indigenous Games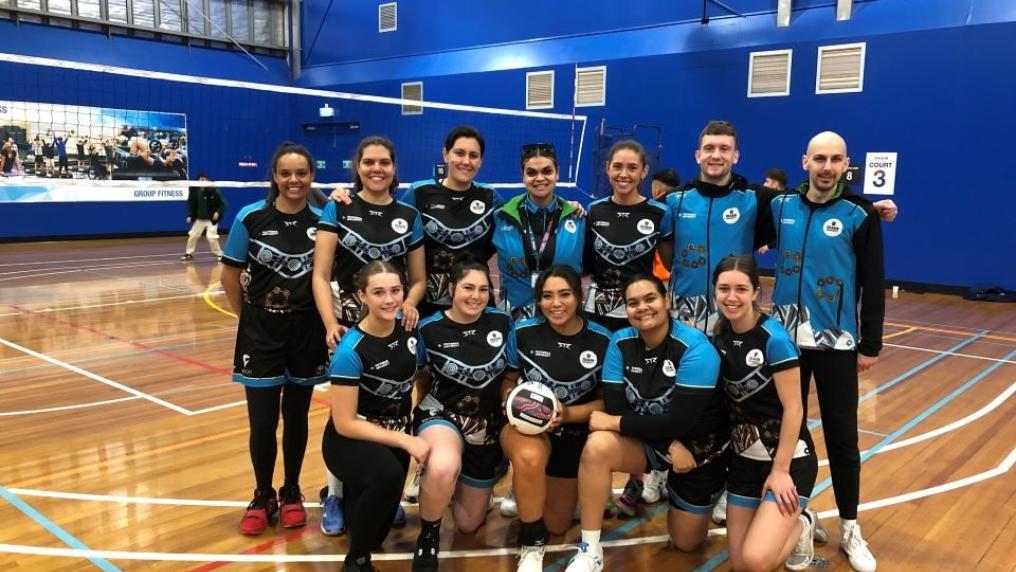 VU students joined students from Deakin University to compete last week in the annual National Indigenous Student Games.
Wednesday 5 July 2023
Victoria University students and staff participated in the National Indigenous Tertiary Education Student Games, a week-long multi-sport competition, that saw First Nations students from more than 30 universities come together for fun, friendship and fitness.
The Games began in 1996 as a joint class project of 13 students enrolled in a Diploma of Aboriginal Studies at the University of Newcastle.
Nearly thirty years later, they have grown into the Indigenous Nationals, this year hosted by Monash University in Melbourne.
The event provides an opportunity for more than 500 Aboriginal and Torres Strait Islander students to celebrate Aboriginal and Torres Strait Islander culture and to:
foster unity
promote health, fitness and wellbeing
demonstrate self-determination
build new connections and friendships
reinforce their identity through positive role models
have fun in a culturally-safe environment. 
Seven VU students and one staff member joined Deakin University to form one team, with great support from Moondani Balluk – VU's Indigenous Academic Unit, and VU Sport.
The Indigenous Nationals are the only event on the Australian University Sport calendar where mixed-gender teams compete in four sports: basketball, netball, touch football and volleyball.
Moondani Balluk Aboriginal Student Support Coordinator Marcus said the VU students showed great spirit, energy and leadership while bonding and looking out for one another.
"I'm really proud of our students and can't wait for next year!"
Other comments:
Stella: "This was my first Indigenous Nationals, and there was so much love around and a wholesome atmosphere. Appreciating our culture and our mob coming together to connect was extra-special."
Tahnee: "This was the most I've spent time with other VU students in a long time. So thankful to have had the experience which wouldn't have happened without Marcus and Moondani Balluk."
Nathan: "It was really beneficial and empowering. It was nice to be reminded that we are doing good things in the community and that we aren't alone in our studies."
Eeron (Bones): "A great first experience, and I'm keen to go back again to connect with students you can relate to."
Lee: "It was great to be in a culturally-safe space, to see blackfellas achieve and be successful in higher education and sport.
Kirra: "It was great to meet other Aboriginal students who were like me, to show different "shades of deadly" and share stories."
Kirraeyani: "I felt so special to be able to play, meet and connect with mob from all over Australia."