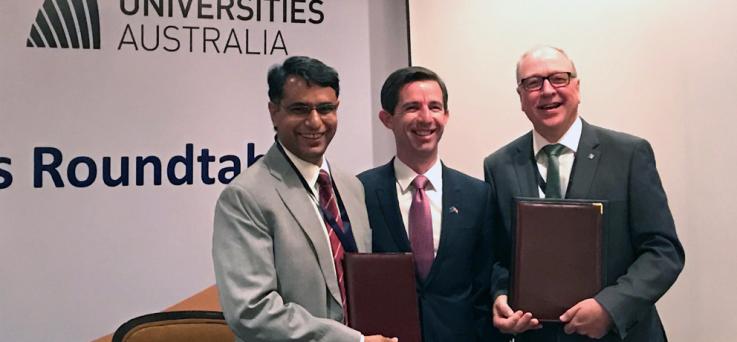 Victoria University, an Australian leader in sport education and research, is helping India establish its first national sport university as part of a high-level Australian delegation now visiting the country.
VU Vice-Chancellor Professor Peter Dawkins yesterday signed a memorandum of understanding (MOU) with India's Ministry of Youth Affairs and Sport that will offer VU expertise on sport study and research, and the infrastructure required to establish the university.
"Our lengthy expertise in sport teaching, learning and research will assist India develop a holistic sports ecosystem that can deliver international sporting success as well grow grassroots sport participation," he said.
Professor Dawkins also signed a second MOU yesterday with the Sports Authority of India's National Institute of Sport in Patiala, Punjab to collaborate on developing university sport curricula, as well as coaching and athlete development programs.
On Wednesday, the Vice-Chancellor will attend an announcement of a bilateral commitment to sport collaboration, the Australia-India Sports Partnership, featuring Prime Minister Malcom Turnbull.
Since 2013, the Australian Government through DFAT and Austrade have supported Victoria University to develop key initiatives as part of an overarching Australia-India program for cooperation in sport.
VU has several projects underway in India that built a foundation for this week's agreements.
These include:
collaborating with state governments in Kerala and Punjab to build elite sport success and build grassroots sport participation
providing expertise in partnership with the Australian Institute of Sport (AIS) for a sport and technology business incubator to develop and test sport technologies, and explore commercial opportunities with Australian sports companies
"Our long-standing history of engagement with India is increasingly showcasing our world-leading expertise in sport science, policy, business and education," Professor Dawkins said.
In addition, VU is a long-time provider of transnational education in India, allowing Indian students to study VU curriculum in their home country. The latest development in this area is a pending partnership with Ganpat University in Ahmedabad to offer a range of postgraduate VU business courses.
Victoria University also engages in a range of research partnerships, hosts Indian PhD students, (including recipients of the Victoria-India Doctoral Scholarship program predominantly focused on STEM disciplines) and offers a range of short- and long-term study programs to India for VU students.