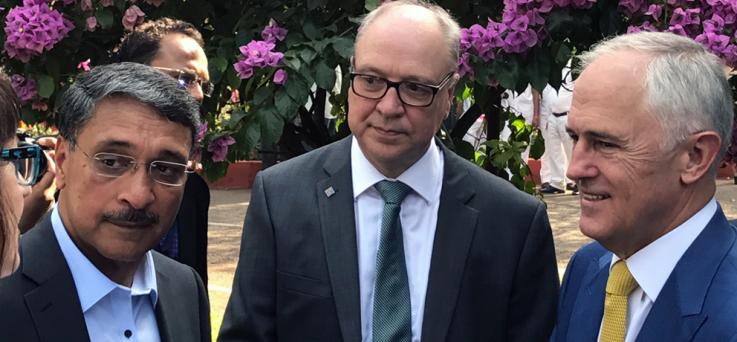 Vice-Chancellor Professor Peter Dawkins joined Australian Prime Minister Malcolm Turnbull and cricket legend Sachin Tendulkar yesterday to launch a new India-Australia Sport Partnership (IASP).
The partnership will see Victoria University and the University of Canberra share their sport expertise, research, and experience with India as it establishes its first national sport university, similar to the Australian Institute of Sport.
Speaking at the University of Mumbai, PM Turnbull said the partnership would help India develop its elite sporting capacity in sports beyond cricket, and put more Indian athletes on a similar medal-winning trail as Australia.
"Our sporting achievements are underpinned by robust sport administration, world-class research, talent identification, athlete development, sports management and technology," Prime Minister Turnbull said.
"And those building blocks are what India looks to as it seeks to achieve Olympic success to equal its prowess on the cricket pitch."
VC Dawkins said that VU, as one of Australia's leading sport universities, has world-renowned expertise in sport teaching, learning, and research that will help India develop a holistic sports ecosystem for international sporting success, as well as grassroots sport participation.
The IASP will take a long-term view and encourage the exchange of research technology and expertise, and cooperation in four key areas:
athlete and coach training and development
sports science
sport governance and integrity
grass roots participation.
The announcement of the IASP follows Professor Dawkins signing two memoranda of understandings (MOU) with India's Ministry of Youth Affairs and Sport and the Sports Authority of India's National Institute of Sport earlier this week.
Since 2013, the Australian Government, through DFAT and Austrade, have supported Victoria University to develop key initiatives as part of an overarching Australia-India program for cooperation in sport.
VU currently has several projects in India including:
collaborations with state governments in Kerala and Punjab to build elite sport success and build grassroots sport participation
projects in partnership with the Australian Institute of Sport (AIS) for a sport and technology business incubator to develop and test sport technologies, and explore commercial opportunities with Australian sports companies
research into the physical literacy of India's most active adults as part of the 2017 Mumbai Marathon.