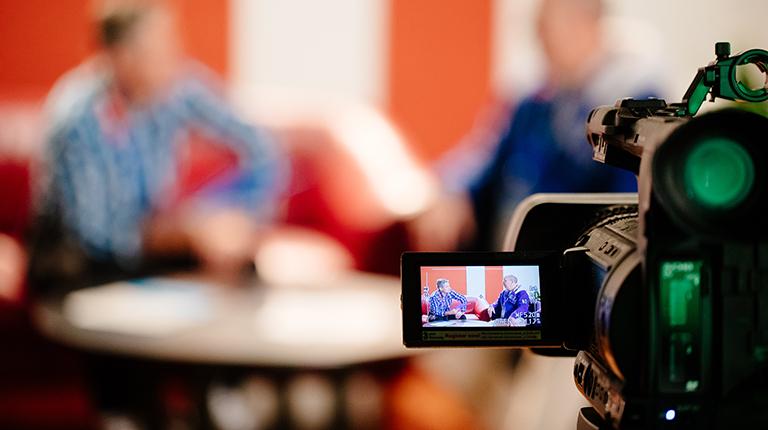 The inaugural Roger Dunn Prize has been awarded to VU Bachelor of Screen Media student Abbey Hewat, at the recent College of Arts and Education awards.
The award includes a $10,000 scholarship, to support students in their second, and then final, year of study. It is open for the highest-achieving student from the Bachelor of Screen Media or the Bachelor of Animation and Visual Effects.
The prize was named in memory of Roger Dunn, the AWGIE Award-winning Australian scriptwriter, whose writing credits include Australian TV dramas 'The Box', 'The Sullivan's', 'Neighbours', 'A Country Practice' and 'Blue Heelers'. It is a fitting continuation of his legacy, as Roger was dedicated to the development of the industry and writers.
Mrs Jill Pappas and former Chancellor of Victoria University, Mr George Pappas AO, established this decade-duration prize in memory of Roger, who was Jill's brother.
The winner, Abbey Hewat was both humbled and encouraged by the prize.
I was so surprised and proud when I won. I would be lying if I said I wasn't fighting back tears. The award reminds me that I'm capable of great things.
She attributes her ability to stay motivated – in spite of the challenges of lockdowns and online learning – to the teachers and VU's innovative Block Model.
"One of the best parts of the course is learning from people with extensive industry experience, who I can go to for advice and feedback.
"Studying under the VU Block Model with its single-unit focus means I can give all my attention to one project at a time – so I can be my most creative. It's also been good for my mental health as I don't feel so overwhelmed."
Senior Lecturer Dr Marc C-Scott commended Abbey's commitment to her studies.
While Abbey's consistently high grades were a considerable achievement, her ability to receive these results in a year with external challenges including remote learning is a real testament to her dedication. Abbey will be an asset to the projects she is associated with in the future.
Find out more
Dr Marc C-Scott
Senior Lecturer – Screen Media
College of Arts and Education