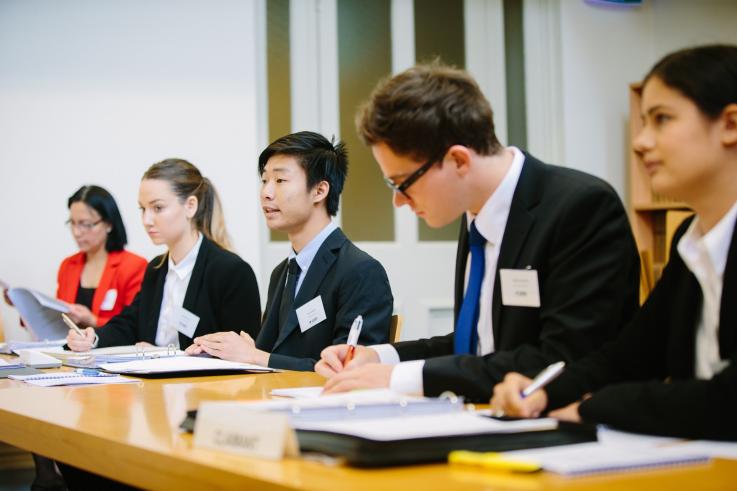 VU's College of Law and Justice congratulates its students on winning the 'Spirit of the Jessup' award at the Jessup International Law Moot Court Competition.
Law students Anastasia Rose Pochesneva and Celil Said Kardaslar were declared the winners of the award at the Australian heats of the Philip C. Jessup International Law Moot Court Competition (Jessup moot).
Jessup moot competition world's largest
Held in Canberra from 6 to 9 February, the Jessup moot is the largest international moot competition in the world, this year attracting over 100 participants in the Canberra rounds alone.
The competition is recognised as the most prestigious moot court competition in the world and simulates a fictional dispute between countries before the International Court of Justice (ICJ). It is organised by the International Law Students Association, and is named after Philip Jessup, who once served on the ICJ.
VU team well prepared
Anastasia and Celil prepared extensively for the competition, drafting memorandums for both the Defendant and the Plaintiff together.
With the support of the Dean, Professor Michael Stuckey, and the assistance of Associate Professor Lidia Xynas, and barrister and lecturer Mr Colin King, Anastasia and Celil trained, practised and refined their mooting skills prior to the competition.
Spirit award recognises excellence
The Spirit of the Jessup Award is selected by Jessup participants, and exemplifies the standard to which all participants should strive to govern their performance and professional demeanour.
The Award was first introduced in 1996, in order to acknowledge the team who best demonstrates the Jessup spirit of comradeship, academic excellence, competitiveness, and appreciation of fellow competitors.