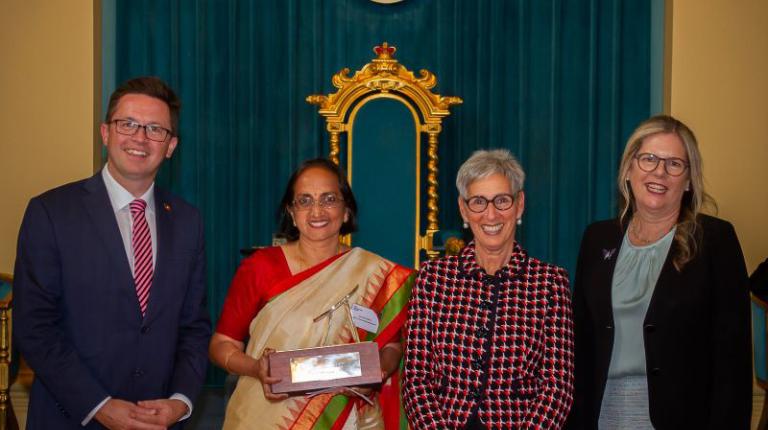 Victoria University PhD candidate Jaya Manchikanti, founder of IndianCare, has been named the Victoria Premier's Volunteer of the Year award for 2021 for her work supporting the state's rapidly growing Indian and South Asian communities.
Jaya also won the Volunteering Leadership Award for these efforts.
As the Volunteer of the Year, Jaya receives the Dame Elisabeth Murdoch Award and a $10,000 donation to charity, which will go to IndianCare.
IndianCare has supported more than 5000 Victorians since its beginnings in 2013. Its team of a few paid staff and volunteers address issues such as family violence, alcohol harm, and the recent plight of international students due to COVID-19, as well as providing referrals.
It is now a respected agency that works collaboratively with government and other agencies. Since the board, staff and volunteers are a mix of first- and second-generation Indian migrants, they can provide culturally sensitive response for referrals to mainstream support services.
Since high school, Jaya has devoted her life to volunteering and social justice causes.
Her current focus is on obtaining a PhD under the supervision of VU's Dr Charles Mphande and Dr Julie Fletcher. Her topic – Examining Australian third-sector community development praxis in relation to progressing the Sustainable Development Goals – has a particular focus on women, COVID-19 responses, and the disadvantaged.
"The next big foray I hope I can pull off is volunteer work in India, a country that desperately needs support due to the impacts of COVID. I came to Australia as a young girl, but I have always had a strong affinity with my birth country."
For more information on IndianCare visit indiancare.org.au or phone 1300 005 040.