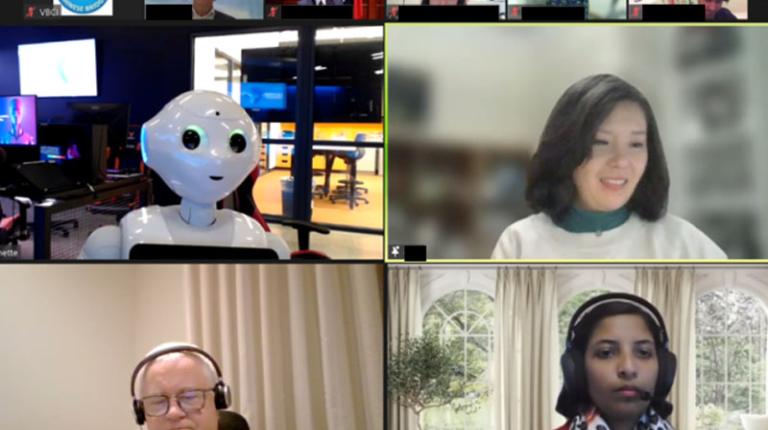 The 21st "Chinese Bridge" Chinese Proficiency Competition for Foreign College Students Melbourne Region was successfully held in Melbourne on 24 June 2022. On behalf of Victoria University, four VBCI Mandarin workshop students performed a great show for an audience of over 1000.
The Melbourne Region competition was organised by the Chinese Consulate General in Melbourne and hosted by the Chinese Language Teachers' Association of Australian Universities and the Victoria Business Confucius Institute. Mr Zeng Jianhua, Acting Consul-General of the Chinese Consulate General in Melbourne, Mr Guo Chunming, Education Counsellor, Professor Hong Junjie, Deputy President of the University of International Business and Economics, and Professor John Germov, Deputy Vice-Chancellor Higher Education of the Victoria University presented their keynote speeches.
A total of eight participants competed in this year's competition. The competition was held online via Zoom and was also broadcast live through Youtube, WeChat, and China based platform, Bilibili.
Chinese Consul-General Mr Zeng Jianhua said in his speech that the theme of this year's Chinese Bridge competition, 'One World, One Family', represents the cultural connotation of beauty in all, beauty in all, and unity in all. This year is the 50th anniversary of the establishment of diplomatic relations between China and Australia.
I hope that the new generation of Chinese and Australian youths will make greater contributions to the mutual appreciation of civilizations, cultural interactions and friendship and cooperation between the two countries and create a bright future together.
In his speech, Professor Hong Junjie, Deputy President of UIBE, said that with the development of China-Australia economic and trade relations, there is an increasing demand for bilingual talents, especially those who understand China and Chinese culture.
"I also hope that young Australians will learn Chinese well, tell Chinese stories well, visit China more often after the epidemic, and study at the University of International Business and Economics when they have the opportunity to do so."
Professor John Germov, Deputy Vice-Chancellor Higher Education of VU, said that as an approachable and friendly university, Victoria University sees cultural diversity as one of its core values, and its staff and students are a mix of more than 90 cultures and 200 languages, with Chinese being the largest non-English background language. The Vice-Chancellor also expressed his appreciation to Professor Colin Clark, the Director of VBCI, for his positive contribution to the exchange and cooperation between the two universities.
The competition was divided into two parts: a Chinese speech and a talent show, in which the contestants demonstrated their Chinese language skills and performed traditional Chinese cultural talents to express their understanding and knowledge of the theme of 'One World, One Family' and Chinese culture.
Yubin Kim from Monash University was the first prize winner, with James McBurnie from the University of Melbourne and Tu Yen Thai from Deakin University taking second and third place respectively.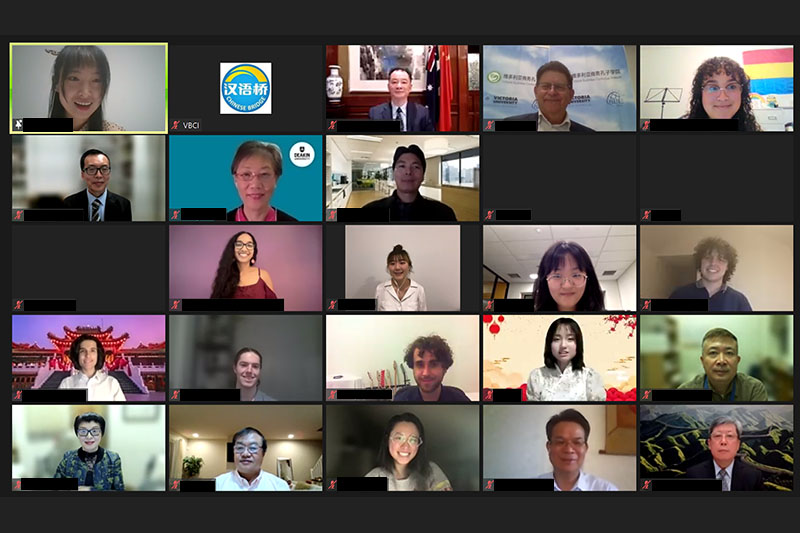 A highlight of the night was Pepper, a robot developed by Wyndham Tech School, supported by Victoria University, which assisted with COVID-19 testing, vaccinations and other services during the lockdown.
After learning Chinese, the students wrote their own Chinese dialogues and speeches, and programmed Pepper to be the first Mandarin speaking robot in VU.
The show featured interactive human-robot demonstrations of tongue twisters, Chinese songs and dialogues, as well as cheering on the participants, sending good wishes and welcoming them to study with VBCI.
"Chinese Bridge" was launched in 2002, aiming to further promote Chinese culture, enhance people's understanding of China, and promote exchanges and cooperation between China and other countries in the political, economic, cultural and educational fields.
Since the first competition was held in 2002, more than 1.4 million students from over 150 countries have taken part.