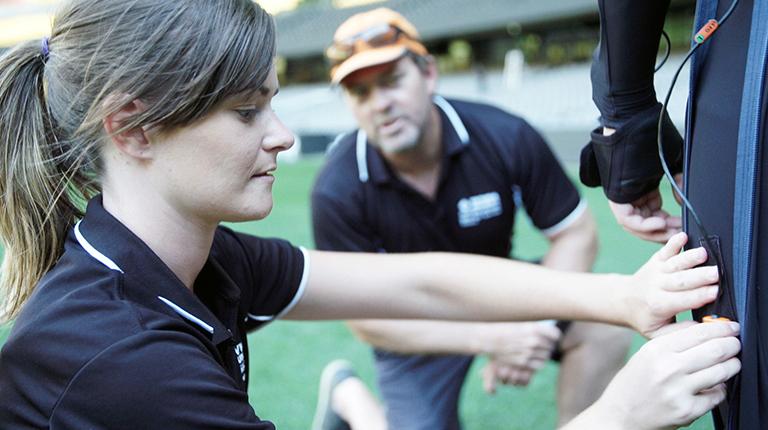 Sport industry professionals looking to upskill in a high-demand discipline are discovering Victoria University's new six-month Graduate Certificate in Data Analytics for Sport Performance.
The only qualification of its kind in Victoria, the four-unit course is delivered online by industry leaders with a practical focus on sports performance analytics. In 2021 it attracts substantial fee subsidies and HECS-HELP loans, as part of the Federal Government's funding and skills-development response to COVID-19.
The reliance on data analytics continues to accelerate – particularly in sport, where it's increasingly being used to make informed decisions about physical performance, technical and tactical strategy.
Student Brad Keller, strength and conditioning coach at Fremantle Dockers, says that working full time, he values the course's online delivery and its industry-focused curriculum.
"The impacts of the pandemic have really highlighted how important it is to increase my skillsets and keep adding strings to my bow," he says.
"The teacher uses real examples, with data sets that have recognisable, day-to-day applications. I've been able to apply my new knowledge to my work almost immediately."
VU research fellow Dr Alice Sweeting says she's pleased to see students from every area of the industry enrol in the short course, which is being taught via the award-winning VU Block Model.
"People from diverse backgrounds are discovering the benefits of this course – from coaching and sports management, sports science to strength and conditioning. Upskilling in data analytics is giving students a vital advantage in their careers."
VU Block Model delivery
This course is delivered via the award-winning VU Block Model.
With the Block Model, you study one unit (subject) at a time over four weeks, rather than juggling several units at once. The VU Block Model has significantly improved our student results and engagement, and has won multiple international awards for innovation and excellence.
Subsidised higher education short courses in 2021
There's never been a better time to study. In 2021 a range of six-month undergraduate and postgraduate courses have fees heavily subsidised and HECS-HELP loans available. Enhance your expertise, skills and employability in 2021 with our range of future-focused higher education (HE) short courses.