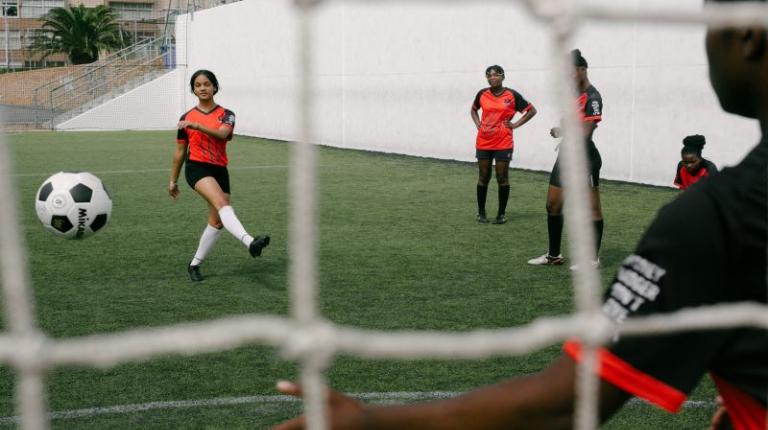 Victoria University will empower newly arrived migrants and refugees in Melbourne's west to participate in sport and physical activity after it was awarded a $330,000 Australian Government social inclusion grant.
The two-year project 'Change Makers: Empowering sports to enhance social inclusion for migrants and refugees' was one of only 57 accepted from more than 800 applications for the Department of Health's $19 million Driving Social Inclusion through Sport and Physical Activity program.   
 As one of the most culturally diverse regions of Australia, Melbourne's west has a very high portion of migrants and refugees who are under-represented in sport. This is due to a range of structural and cultural barriers, such as cost, transport, language issues, and lack of family support.
Rankings for Brimbank City Council, for example, show it is among the lowest in Victoria for club-based sport and sport participant registrations, and the lowest for its number of sports facilities, playing fields and courts.
The project will focus on a community-driven, evidence-based 'Change Makers' program that VU's Sport Diversity and Social Change researchers – Dr Brent McDonald, Dr Fiona McLachlan, Dr Carla Luguetti and Professor Ramón Spaaij – have previously used with great success.
Recent projects using the Change Makers model have helped increase gender equity at Victorian football clubs, among other local, state and national projects.
Beginning in September, the VU team will collaborate with Brimbank City Council, Welcoming Australia, Volunteer West and the Wyndham Basketball Association to identify 60 volunteer Change Makers.
These Change Makers will complete workshops and be mentored to co-create and implement individual programs targeted to increase inclusion, diversity and equity in a range of sports – substantially and sustainably. Scholarships will be offered to Change Makers from low SES backgrounds or who are primary carers.
"We are delighted our project that uses sport as a vehicle for social justice and social transformation in Melbourne's West is part of the Australian Government's social inclusion program," said Dr McDonald.
"Migrant and refugee groups in the region will benefit through enhanced opportunities for participation and social connection in sport, as well as from the increased capability of community Change Makers to lead and assist in inclusion projects in their sports."