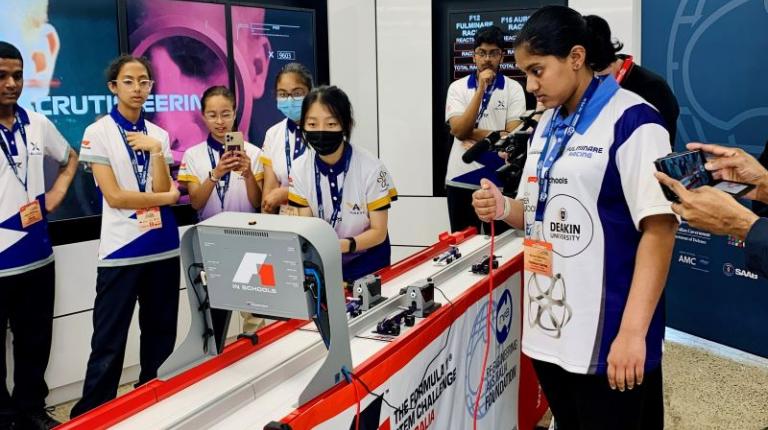 Nearly 100 secondary school students from across Victoria recently came together at Wyndham Tech School to participate in the F1 in Schools STEM challenge.
The students raced miniature race cars they designed and built themselves from a block of balsa wood.  The cars race on a 20-metre track powered by CO2 canisters and reach speeds of up to 80km/h.
Sam Nikolsky, STEM Operations Manager at the Wyndham Tech School — which is hosted on Victoria University's Werribee Campus — said the project allows students to build skills in project management, engineering design, manufacturing and graphic design, and develop a lifelong interest in Science, Technology, Engineering and Maths (STEM).  
"The competition exposes young people to jobs they never knew existed and inspires them to think anything is possible," he said. 
Some of the teams prepared for up to 10 weeks, learning to use Computer Aided Design (CAD) to design, analyse, manufacture, test and race their cars, and 3-D plastic printing and CDC routers to build them.
F1 in Schools is an international program that operates in 13,000 schools in 51 countries around the world. Students start off competing with their peers at school and can take the journey of discovery across the globe. Wyndham Tech School partners with Re-Engineering Australia for the annual competition.
Several schools from Melbourne's west won in their category or made it through to the national finals, including Alamanda K-9 College in Point Cook and The Grange P-12 College.